Golden Hill
Golden Hill is known for its beautiful Victorian homes and amazing views of downtown and the harbor. A neighborhood with great charm and character, its vibrant business community boasts ethnic markets and famous restaurants like the Turf Supper Club. Recent improvements to 25th Street prove that this neighborhood is blossoming.
Downtown
Downtown San Diego encompasses eight different neighborhoods: Gaslamp, East Village, Columbia, Marina, Cortez, Little Italy, Horton Plaza, and Core. These neighborhoods are the center of our business, arts, and entertainment communities. Twenty years of redevelopment transformed Downtown into a vibrant and exciting place to live, work and play.
Bankers Hill/Park West
Bankers Hill is situated north of Downtown and west of Balboa Park. Due to the central location, this community has become a residential and small commercial hot spot. Bankers Hill showcases many Victorian and Craftsman homes, some of which have been converted from family homes into condominiums, law offices, medical offices, and other professional uses. Visitors and residents can enjoy a delicious meal or a gourmet cup of coffee at one of many establishments throughout this community.
Balboa Park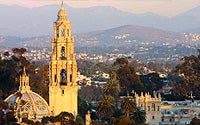 Pages