Emerald Hills
Emerald Hills is bordered by Oak Park and California State Route 94 on the north, Chollas View on the west, Encanto on the east, and Valencia Park on the south.  Public schools in Emerald Hills include Johnson Elementary School. 
The Emerald Hills Neighborhood Council meet every 2nd Tuesday of the month at 6:00 p.m. at Johnson Elementary School, 1355 Kelton Road, San Diego, CA 92114.  
Community Representative: Ibrahim Ahmed
Jamacha
Jamacha borders the Skyline Hills neighborhood to the west and south.  Jamacha is named for the Jamacha Valley and Rancho Jamacha, a Mexican land grant estate.  Public schools in Jamacha include
Audubon Elementary School.
Communities
Council District 4 includes all of the following zip codes:
92102, 92105, 92113, 92114, 92115, 92139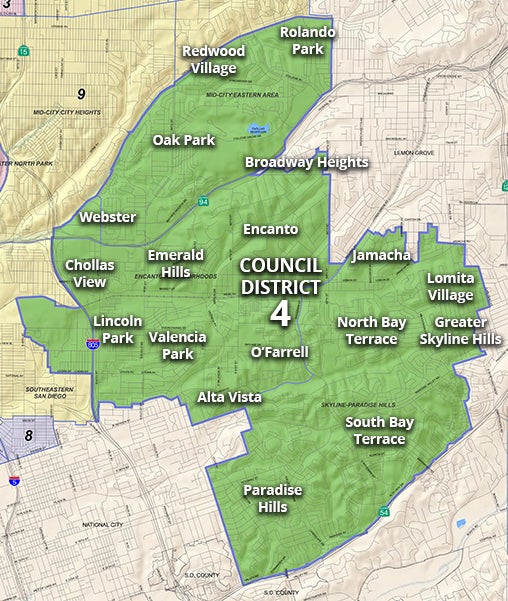 Alta Vista
Alta Vista is bordered by 
Encanto to the North, Paradise Hills to the South, 
National City to the West, and Bay Terraces to the East.  
The Alta Vista Community Council meets at Nye Elementary School, 981 South Valencia Parkway every fourth Thursday of the month at 6:30 p.m.  (No meetings in June, July and August).
Pages