Kevin Smith
Chief of Policy,
Committee on the Environment Consultant
Martha Zapata, Community Representative

Martha, originally from San Luis Potosi, Mexico, has lived in San Diego for the last 35 years. She served on the Board of Directors for the Sherman Heights Community Center, Community Development Corporation, as well as Coordinator for the Logan Heights Neighborhood Council. She is also a certified Spanish/English interpreter and translator.
Gabriel Solmer, Policy Advisor
Lisa Maytorena Schmidt, Deputy Chief of Staff
Lisa worked for the California State Legislature for 18 years, serving Senators Steve Peace, Martha Escutia, the late Jenny Oropeza and most recently, Denise Ducheny. She also served as a Consultant for the Senate Majority Caucus in the State Capitol.
Vivian Moreno, Community Representative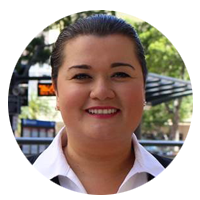 Rudy Lopez, Community Representative
Community Representative
A native of San Ysidro, Rudy most recently spent the last six years with the City of National City's Community Services Department. Prior to that, he was the Event Coordinator for the San Diego County Hispanic Chamber of Commerce. He has spent countless hours volunteering in the community.
Travis Knowles, Chief of Staff
Gabriela Dominguez, Community Representative
Community Representative
A native San Diegan, Gabriela was raised in Barrio Logan. She received her Bachelor in Arts degree in Political Science with a minor in Sociology from San Diego State University. As an undergraduate, Gabriela joined the District 8th team as an intern and now serves as Councilmember Alvarez community representative for San Ysidro.