Planting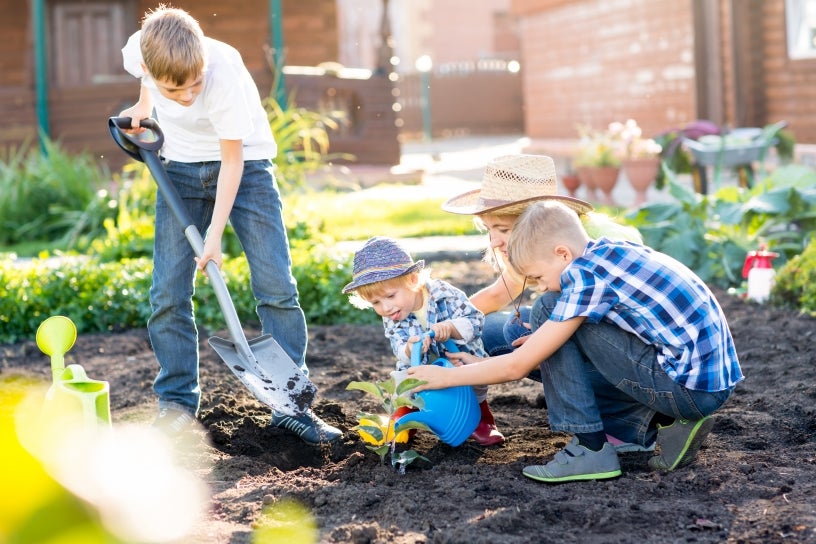 The planting of trees is actively encouraged throughout the City. A goal of the City's

Climate Action Plan is to achieve 35 percent urban tree canopy coverage by 2035. In addition, the City's

Five-Year Plan for the Urban Forestry Program calls for increasing the City's urban tree canopy cover and maximizing the benefits of trees. Also, master tree planting plans are an integral part of individual community plan updates.
Increasing the tree canopy in San Diego will help cool our urban environment, help prevent erosion, and reduce greenhouse gas emissions. The citywide tree planting program includes water conservation measures to minimize the water use for tree plantings. The measures include planting drought-tolerant and native trees, and prioritizing tree plantings in areas with recycled water and greywater infrastructure.
However, planting trees only at parks, along streets, and on other City property will not be enough to reach our goal. Property owners, both residential and commercial, can help by planting trees as well. Also, neighborhood associations, business organizations and other groups can contribute and greatly improve San Diego for the future.
Below is information to assist in the planting of trees.
No Fee Street Tree Permit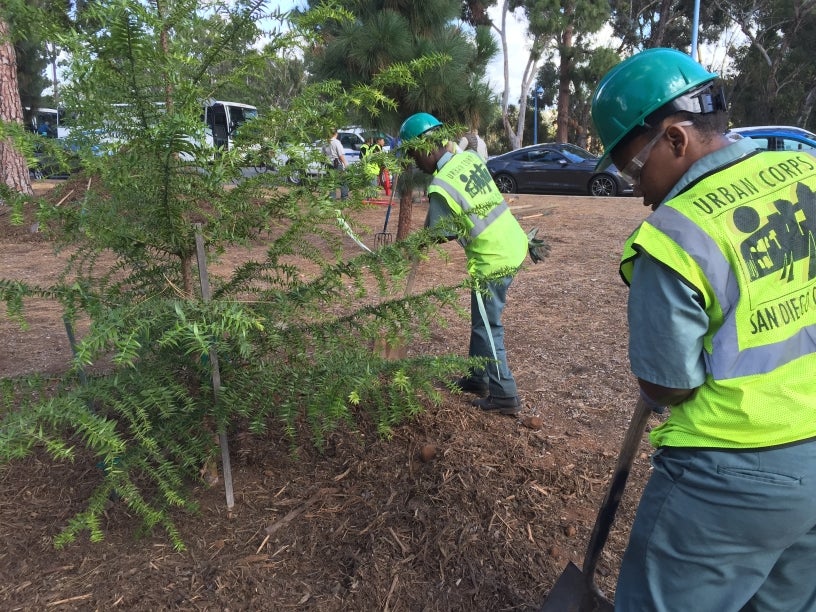 The planting of all street trees requires a

No Fee Street Tree Permit approved by the City of San Diego. Municipal Code 62.0600 establishes rules and regulations to control and protect planting on City streets. A permit is not required for planting trees on private property outside rights-of-way and utility easements.
City of San Diego residents can request a street tree be planted in the public right-of-way, at no cost, if they agree to water the tree to ensure its survival. Many of these trees are planted by the Urban Corps of San Diego. Requests are reviewed on a case-by-case basis, and must be made through the

permit process. 
You can also request a new street tree through the City's Get It Done app. Select New Report. From the "Other" service category, select "Other." Tap Location to provide the address for the Free Tree and tap Done. Enter FREE TREE in the Description field. Enter full contact information in the "My Info" field, and submit.
Tree Selection Guide
The City's current street tree inventory includes more than 30,000 palms and over 220,000 various shade trees. The City of San Diego's

Tree Selection Guide provides information about trees recommended for use in the public right-of-way. The guide encourages selections that are compatible with the planting location, thus preventing damage to public improvements, while ensuring species diversity.
Water Conservation
The City offers a variety of water conservation programs to assist property owners keep their trees and other landscaping green while conserving water and saving money.