Contact Information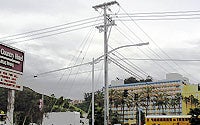 For more information regarding the City's Underground Utilities Program or overall project questions, call the City's UUP Information Line at (619) 533-3841 or send an email to undergrounding@sandiego.gov. If you have specific questions regarding an individual utility company, please see non-city contact information below.
Non-City Contacts
SDG&E
General Contact Information
1 (800) 411-7343
*Tell the operator you would like the project manager (PM) for the utilities undergrounding project in question. If you need to find the name of your project, please click here. 
AT&T
Michelle White
(858) 790-0781
 
Cox
Sara DuFour
(619) 266-5480
Sara.DuFour@cox.com
Charter / Spectrum
Matt Rivers
(858) 635-8719
 
Crown Castle
Andrew Armstrong
(760) 613-4671
Andrew.Armstrong@crowncastle.com