Project Planning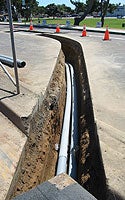 The Utilities Undergrounding Program has a goal to underground 15 miles of overhead utility lines each year.
In accordance with City Council Policy 600-08 (PDF), every year the City Council approves a Master Plan that prioritizes projects within each Council District. Although the Master Plan sets out the order of undergrounding, the actual residential block boundaries may change due to design work, precise engineering or available funding.
The City reserves the right to make modifications to all block boundaries and plans. The City Council may change the order of future undergrounding projects. All property owners, along with buyers and sellers, should be aware of this disclaimer.
To determine when a street will be undergrounded, you can use the Undergrounding Info Map, call the Utilities Undergrounding Program Information Line at 619-533-3841 or email undergrounding@sandiego.gov.