Commercial Landscape Survey Program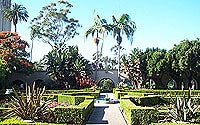 The Commercial Landscape Survey Program is provided free of charge to commercial, industrial and institutional customers in the City of San Diego. Qualifying properties must have more than one acre of landscaped property. By getting involved in this program, properties will receive an audit of the irrigation system, practical advice, water-saving recommendations and a water-use budget. Many properties can expect water savings of between 20 and 40 percent. Skilled surveyors will review the water-use history of the property to determine where water savings are possible. Participants will also receive a written evaluation of the irrigation system's performance, aerial photos of the property, a water-use estimate for the upcoming year and an irrigation controller schedule for each month.
To schedule a survey, or for more information, please call 619-570-1999, or email us at [email protected] and provide your name and day time phone number.