2014 Water Conservation Film Contest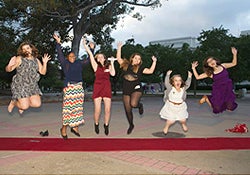 Grand Prize Winners jump for joy.
It became even more certain to us this year that students are passionate about conservation, and interested in participating in our Waste No Water Film Contest, when we received our most entries ever ? more than 80 films were submitted!
Students once again walked the red carpet at the Reuben H. Fleet Science Center?s IMAX Theater in Balboa Park for the premiere of the finalist films selected for the annual competition.
The films were viewed on the big screen, with 11 entries selected as finalists, and San Diego City Councilmember Marti Emerald on hand to kick off the event.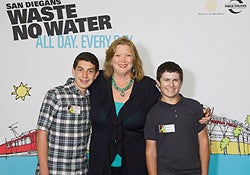 Councilmember Marti Emerald
with two student filmmakers.
The winning film is annually shown at local theaters, including Mission Valley and Plaza Bonita AMC Theaters, and the Mira Mesa Edwards Theater, as a public service announcement before feature presentations, and winners received generous prize packages donated by local businesses.
The contest, which takes place each May, is open to all high school students and all college students in the cities of San Diego, Coronado and Imperial Beach. The competition provides the City with an excellent way to engage students directly about the importance of conservation, and using water wisely. Check back here later in the year for details and entry forms for the 2015 contest.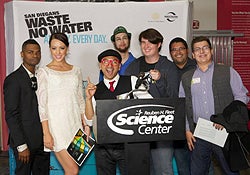 The cast & crew of the 2nd place film
mug for the camera again.
And the winners are:
Winner: How to Reuse Greywater
Film by: Ana Little-Sana and Mia Rollins
School: E3 Civic High School
2nd Place: Bad Bad Carwash
Film by: Ricardo Arriaga, Elisha Cecil, Fredo Herrera, Jennifer Linch, Edwin Frank Ortiz, Jessica Peak and Daniel Stone
School: Southwestern College
3rd Place: Save the Drain
Film by: Bobby Gregory and Tierra Delvey
School: San Diego High School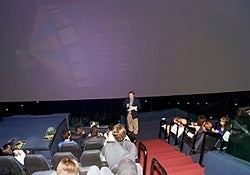 Viewing the finalists inside the IMAX theater.
The remaining finalists were:
Finalist: Water Conservation
Film by: Donte Grady, Jake Huckabone, Melanie Setterberg and Elijah Varela
School: Madison High School
Finalist: Water Is As Sweet As Candy
Film by: Brian Lithicum and Declan Robinson
School: Point Loma High School
Finalist: Waste No Water
Film by: Viraj Mandania, Kyle Mullin, Matt Rudick and Brandon Vu
School: Scripps Ranch High School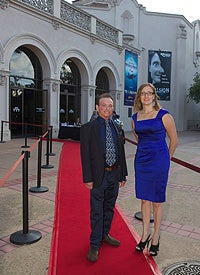 Judges Larry Zeiger and Lisa Franek
Finalist: Wasteland
Film by: Blake Brubaker and Devon Knox
School: Point Loma High School
Finalist: Every Drop Counts
Film by: Alex Rodrigue
School: San Diego City College
Finalist: The Breakup
Film by: Kimberly Cole and Louise Johansen
School: Point Loma High School
Finalist: Water Ninja
Film by: Summer Ingruo and Trinity Ondek
School: Scripps Ranch High School
Finalist: Waste No Water
Film by: Kyle Punzalan
School: San Diego School of Creative and Performing Arts