Commercial Grass Replacement Rebates - Currently Unavailable
City of San Diego CII (Commercial, Industrial, and Institutional) water customers may be eligible to receive a rebate for grass replacement up to $1.50 per square foot (minimum 1,000 SF and up to 10,000 SF). Limited funds are available on a first-come, first-serve basis. For program requirements and to understand the application process, please review the

grass replacement rebate guidelines.
City of San Diego residential customers may also be eligible for a rebate through San Diego County Water Authority's Sustainable Landscapes Program.
DO NOT remove your turf grass before you are officially approved by the program!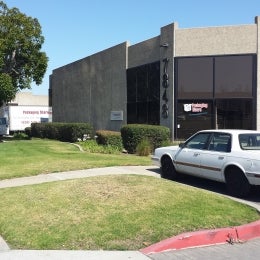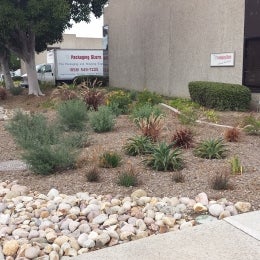 Grass Replacement With 25% or More Living Landscape
City of San Diego customers with qualifying grass areas can receive rebates of up to $1.50 per square foot when replacing the grass in their front, side or backyards with a minimum of 25% living plant material. Qualifying plants must be very low to moderate in water use, non-invasive and cover at least 25% of the total project area when fully grown. The remaining 75% of the project area must consist of pervious surface that helps reduce stormwater runoff.
How Much Of A Rebate Can I Get and How Much Grass Can I Replace?
| Grass Replacement Project Area Plant Coverage | Rebate Per Square Foot | Maximum Rebate Amount | Minimum Square Feet | Maximum Square Feet |
| --- | --- | --- | --- | --- |
| A minimum of 25% of the plant coverage in the project area | $1.50 | $15,000 | 1,000 | 10,000 |
For Commercial Customers
What Does Not Qualify for the City's Grass Replacement Rebate?
Projects that have been started or completed before a pre-site inspection has been conducted by the City
Installation of vegetable gardens where grass once was
Lighting, fences, tools, retaining walls, taxes, fees and tariffs
Water features and fountains
Properties that use recycled water for irrigation
High water-use and invasive plants
Parkways (sidewalk strips)
Artificial turf
See guidelines for more information.
City of San Diego Rebates Hotline: (619) 533-4126
County water ratepayers (not City of San Diego customers) should check with their water agency's website for information regarding rebate availability.