Miramar Greenery Mulch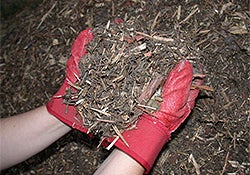 Applying mulch around the plants in your flower beds and garden will reduce the need to water as often. Mulching helps retain moisture underground, and also aids in the reduction of pesky weeds
Miramar Greenery is part of the City's Miramar Landfill. As a benefit, City of San Diego residents may self-load up to two cubic yards of compost or mulch for free with proof of residency. One cubic yard is equal to the size of six 32-gallon trash cans. Mulch and compost can be loaded by Miramar Greenery staff.
Wood chips can be purchased for a modest fee at the Miramar Landfill fee both located at the landfill's entrance. Please call the Miramar Landfill at (858) 492-6100 to confirm availability on a particular day.
Information Sheets
Visit the Miramar Greenery site for details on other products available at the Greenery.