Residential High-Efficiency Clothes Washer (HEW) Rebates

Note: As of July 1, 2008, single-family properties qualify for approved High-Efficiency Washing Machine rebates. These rebates are available through Metropolitan Water District of Southern California's "SoCal Water $mart Program." Before-the-sale Vouchers are no longer available.
The Residential High-Efficiency Clothes Washer (HEW) Rebate Program offers a
$185
after-the-sale rebate for a new qualifying HEW.
Rebate Application and Qualifying Lists are available at:
20gallonchallenge.com
(click on "save money for your home and business" and select "residential")
or call: 1 (888) 376-3314
HEW machines...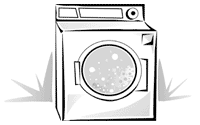 Use 60% less water.
Use 55% less energy per load than standard top-loading machines.
Cut the drying time in half.
Clean clothes more thoroughly.
Use less detergent.
Reduce wear and tear on clothing.
Please be aware that the qualifying HEW list is updated frequently so use the most current list available.
To qualify for the rebate, the HEW must have a water factor of 5.0 or less. The water factor is a measure of the total water used by the washer. The less water used per cubic foot of laundry, the lower the water factor and the greater the machine efficiency.
Please refer to the Rebate Application for program terms and conditions. Rebate mailing address is:
SoCal Water $mart
High Efficiency Rebate Program
3800 Watt Ave., Ste. 105
Sacrament, CA 95821
General City of San Diego Water Conservation Program information available at: (619) 515-3500 (select the "Conservation" option) or at the Water Conservation Web page.