Water Security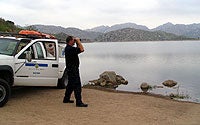 Water security is a shared responsibility involving water suppliers, utilities, law enforcement agencies, and citizens. Several security measures have been implemented to protect our drinking water, including new fencing and guard posts at our major facilities. The majority of our precautions, however, cannot be disclosed to the general public because we want to prevent those who might try to compromise the City of San Diego's water treatment and distribution systems from having access to information about how we protect our water supply.
Your safety is a priority, so do not approach or confront people who you believe may be involved in criminal or otherwise suspicious activity. Please keep your eyes and ears open, as we count on you to report any suspicious activity in and around local water utilities.
Here are a few examples of suspicious activities to report:
People dumping or discharging material in or near a water reservoir
People climbing or cutting a utility fence
Unidentified truck or car parked near waterways or water facilities for no apparent reason
Suspicious openings or tampering of manhole covers, fire hydrants, buildings or equipment
People on top of water tanks
People photographing or videotaping utility facilities, structures or equipment
People loitering around locks, gates, tanks or facilities
Tampering with water supplies is a serious offense and violators will be punished to the fullest extent of the law. Please report any suspicious activities to one of the following:
9-1-1 emergency line
Police Department's 24-hour non-emergency line at (619) 531-2000
Public Utilities' 24-hour emergency hotline at (619) 515-3525
Thank you for helping keep our water resources and community safe.