Speakers Bureau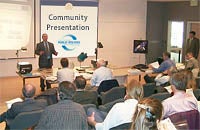 Public Utilities Department representatives are available to come to your community, professional, civic or business group to talk about specific water topics. Speakers are also available for upper elementary, high school and college classes in certain subject areas.
The current presentation topics are:
Water quality and treatment process
Water conservation
Recycled water
Water distribution and delivery systems
To schedule a presentation, please call our Speakers Bureau Hotline at (619) 533-6638. Please call as far in advance as possible. Your inquiry will be responded to by the next business day.
When requesting a presentation, please include the following information:
Your name
Phone number and e-mail (if available)
The organization or group
Date and time for the presentation
Location of the presentation
Requested topic (if known)
If you are interested in a speaker or information about the City's Wastewater Branch, please call the Info Line at (858) 292-6484.
Customer Advocate Presentations Available
The Public Utilities Department provides presentations to community and business organizations that include these key topics:
Understanding your residential /water/sewer bill
Overview of fixed and variable fees and charges
Go Green! Online self-service option
Overview of key infrastructure and services
What you can do when your utility bill is higher than expected
If your organization is interested in a presentation, please contact the Public Utilities Department at (619) 533-4275.