Water Department Press Release

CONTACT: Kristina Alexanders (858) 452-0031 x313
Wendy Hovland-Henry (619) 533-4669
PIPELINE CONSTRUCTION UNDER WAY TO UPGRADE AGING WATER SYSTEM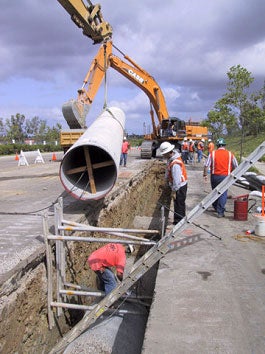 San Diego, CA...Construction for the Black Mountain Road Pipelines Project is under way, with more than 18,500 feet of pipeline installation completed in parts of Scripps Ranch, Mira Mesa and Rancho Peñasquitos since April. When complete, a new 5.5-mile drinking water pipeline and a 3.8-mile recycled water pipeline will provide enhanced water system reliability and increased water capacity to the region.
Construction continues on Black Mountain Road, south of Mira Mesa Boulevard; on Scripps Ranch Boulevard; on Westview Parkway; and on Twin Trails Drive between Carmel Mountain Road and Black Mountain Road. Work will soon begin on Black Mountain Road north of Westview Parkway, which will include a tunnel under Peñasquitos Creek.
Archer Western Contractors and the City of San Diego Water Department appreciate the continued patience of the community during this important project. A project information line is available to address questions and concerns from the community about the project. The phone number is 858-646-9890 and calls will be returned within one business day.
"Construction work hours vary in different areas of the project as a result of input from the community and in an effort to minimize impacts," said George Freiha, City of San Diego Water Department project manager. To ensure the safety of residents and commuters as well as provide a smoother drive, trenches where pipelines are laid are covered with metal plates flush with the pavement and work areas are swept after each shift.
Construction began in April of this year and is anticipated to finish in mid 2003. Two separate pipelines are being installed - a drinking water pipeline and a reclaimed, or recycled, water pipeline. The pipelines are installed in a coordinated effort to minimize construction impacts to the communities of Mira Mesa, Rancho Peñasquitos and Scripps Ranch.
The total project cost is estimated to be $32.5 million and is funded by water rates, revenue bonds and capacity charges. When complete, the drinking water pipeline will serve as a backup to the existing Rancho Bernardo Pipeline that was installed in 1964. The recycled water pipeline will offer a cost-efficient supply of water for irrigation and industrial purposes.
The Black Mountain Road Pipelines Project is part of the City of San Diego Water Department's citywide Capital Improvements Program. Water infrastructure improvements (replacements, upgrades and expansions) are under way throughout the City's water system, including pipelines, water pump stations, reservoirs and treatment plants. These improvements will help ensure a safe and reliable water supply, protecting the region's job base, environment and overall quality of life for future generations. Information on this and other projects is available online at www.sandiego.gov. Click on "Departments" and then "Water."
A map of project alignment is available in electronic formats.