Water Purification Demonstration Project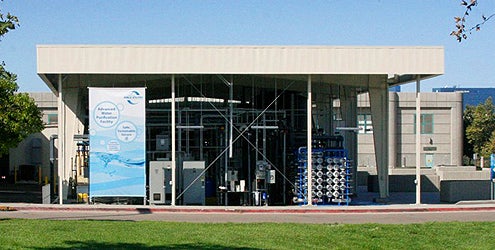 From 2009 to 2013, the City of San Diego embarked on a demonstration project to determine whether advanced water purification technology could provide a local and safe drinking water supply for San Diego. The

Water Purification Demonstration Project evaluated the feasibility of a full-scale reservoir augmentation project, where purified water could be blended with imported water supplies in the San Vicente Reservoir before going to a standard drinking water treatment plant.
The project's operational testing and monitoring verified the water purification process consistently produces water that meets all state and federal drinking water standards. The purified water is similar in quality to distilled water. For more detailed information about the project results, the final project reports are available here for review.
Learn More
Free tours of the demonstration Advanced Water Purification Facility are ongoing. Register online for a tour.
Presentations to all interested groups are also available. Request a presentation by emailing [email protected].
Additional information about the demonstration project can be found on this website.
Check out Pure Water San Diego to learn about the City's current 20-year program.