Get Involved
Now that water purification has been confirmed feasible for San Diego, the City is working on implementing full-scale water purification facilities, starting with an initial 30-million-gallon-per-day facility in 2021. Eventually, the water produced from local water purification facilities will reach all communities across the city. See below for information about ways to learn more about Pure Water San Diego.
Tours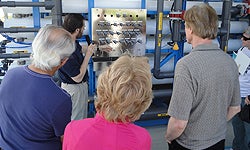 Since June 2011, the City's Pure Water Facility has been open for free public tours. Taking a tour is a great way to not only learn more about water purification, but also to see the state-of-the-art technology up close. Tours last about an hour and involve a presentation and a walking tour of the facility. You must register in advance.
Tour Photos*
*The tour photos are posted on Facebook, but a Facebook account is not required to view the photos.
Presentations
In addition to a tour, we also offer community presentations. A member of our team will come talk to your organization about the latest program information and will answer your questions. Presentations generally last 20-25 minutes.
Community Events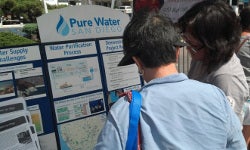 The Pure Water team is actively involved in the San Diego community, and we have participated in events in council districts throughout the city. See below for our upcoming events and a list of events we have participated in previously. Have an event you think we should get involved with?
Email us and let us know!
Upcoming Events
Come visit our booth at the following upcoming events:
National Night Out Crime Prevention and Community Resource Fair, Tuesday, August 2, 5 p.m. - 7:30 p.m., Robert Eggers Sr. South Bay Recreation Center
San Diego Black Nurses Association Health & Wellness Expo, Saturday, August 27, 9 a.m. - 3 p.m, 4343 Ocean View Blvd.
Imperial Avenue Street Festival, Saturday, August 27, 9 a.m. - 6:30 p.m., Imperial Avenue between 28th and 30th Street
Testimonials
We are grateful for the support provided by members of the San Diego community. Click on the links below for testimonial video clips about the program and its impact.
The Science Behind the Water Purification Process
"We're doing with technology what used to take years or decades to do in a matter of a few hours." -Lois Fong-Sakai, Civil and environmental engineering expert
The Benefits of the Water Purification Process
"When you look at the fact that we are at the end of the pipe, that we import almost all of our water, this is going to give us a new reliable local source of water that we just haven't had before." -Marco Gonzalez, Executive Director, Coastal Environmental Rights Foundation
"Consistently after people have learned more detail about how the [water purification] process works, they have come around to understanding and supporting the process." -Judy Swink, Citizens Coordinate for Century 3
Support for the Demonstration Project
"San Diegans should know that this project is supported by a broad coalition of people." -Amy Harris, former Development Director of the San Diego Taxpayers Association
Social Media
Join in the conversation! Pure Water San Diego has active pages on Twitter, Facebook and YouTube where we share updates, water facts and tips, pertinent media stories and more. We welcome your feedback, questions and comments.
Keep Me Informed
If you have any specific questions about getting involved, contact us at [email protected] or (619) 533-7572.