General Information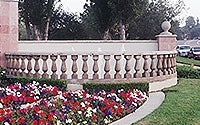 Study Description and Water Reuse Options
Summary of Reuse Strategies
Presented as Attachment 3 to Agenda Item 9 at the July 26, 2006, meeting of the San Diego City Council Natural Resources and Culture Committee. Please note that the document is posted here in two parts due to the electronic file size. The Agenda Item documents are available on the Publications page.
Overview of Water Reuse Opportunities in Study Final Draft Report, March 2006
Process/Timeline
The Water Reuse Study was approved by the San Diego City Council on Jan. 13, 2004, and a study team was assembled. The Study is a comprehensive, impartial, balanced, and science-based review of all recycled water options for the City.
Additional Information
* Photos above are an air valve on the City's recycled water distribution system at a business in Sorrento Valley and landscaping at the entry to an apartment complex in San Diego (City irrigation customer).