Public Involvement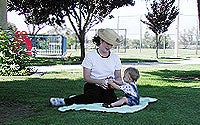 Speakers Bureau
City of San Diego Assembly on Water Reuse Workshops
The Water Department selected an American Assembly style process as a key component of the public involvement activities for the Water Reuse Study. Two American Assembly style workshops were conducted during the course of the Study timeframe. The American Assembly I and II Statements and workshop summaries reflect the dedicated efforts of the community representatives present at both workshops. The review document for the first workshop held in October 2004

Pure Water Goals, Opportunities & Values , October 6, 7 and 29, 2004, and the review document for the second workshop held in July 2005 Water Reuse Study Interim Report, June 2005 are posted with this information. Media releases on both workshops are also included.
Letters and Resolutions of Support
The Water Reuse Study has received letters and resolutions of support from organizations, cities, community groups and other agencies. These groups are providing acknowledgement and written support of the study's efforts to utilize more recycled water to meet the City's water needs.
Organization and Date of Document
Have a question?
Your answer could be in our Frequently Asked Questions section.
* Photo in text is a play area at Hourglass Park in Mira Mesa (City irrigation customer).