Source Water Protection Guidelines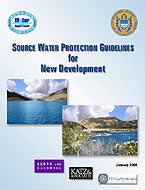 The City of San Diego's Public Utilities Department faces significant challenges protecting its raw water supply. This challenge results from much of the watershed lands being outside of the City's jurisdictional limits. Thus, much of the watershed lands are outside of the City's jurisdictional sphere of authority for land use planning, zoning, and building codes. To address this, the Public Utilities Department has established a guide for development in and around water supply watersheds aimed at protecting the local source waters; "Source Water Protection Guidelines for New Development."
City staff and other local agencies use these Guidelines as part of the development review, comment, and approval process. Land developers use the Guidelines when designing projects located in the areas where water supply could be affected within watersheds.
The Guidelines build upon existing land use, zoning, and building code regulations. They establish water quality control measures, specific to drinking water sources, for construction and new development, and also include recommendations for long-term maintenance of the control measures. Overall, it serves as a road map for sensible development, increases the reliability of the water supply system, and reduces the cost of drinking water treatment.