Renewable Energy and Efficiency Program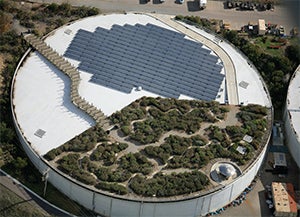 Renewable Energy and Efficiency Program
The City of San Diego is committed to sustainability and the efficient use of resources and has a very dynamic Renewable Energy and Efficiency Program within the Public Utilities Department. Together with its private partners, the Department's facilities generate more renewable energy than any other San Diego Gas & Electric customer. This impressive standing contributes to the Department's environmental stewardship, provides some energy independence, helps reduce operating costs and ultimately helps keep rates lower for customers.
In fact, some of the Public Utilities facilities produce enough energy to operate the facilities and still sell excess energy back to SDG&E to generate revenue. The City's excess energy production helps supply energy to such important institutions as the Marine Corps Air Station (MCAS) Miramar and the University of California, San Diego. Public Utilities Department facilities, with private partners, utilize a number of energy sources to generate energy, including digester gas, landfill gas, bio methane, hydroelectric, solar and fuel cells.
This commitment to sustainability has not gone unnoticed. In 2013, the City of San Diego was recognized with the SDG&E Energy Showcase Award for Local Government, due in part to the efforts of the Public Utilities Department to create renewable energy. The California Center for Sustainable Energy awarded the Public Utilities Department their 2010 Energy All-Star Award for Outstanding Organization. In 2006, the City of San Diego was recognized by the U.S. EPA for utilizing more renewable energy than any other public agency in the United States. The Wastewater Branch of the Public Utilities Department utilized 96 percent of that energy to offset the purchase of non-renewable energy. In 1998, the San Diego Taxpayers Association honored the Metro Biosolids Center's privatized landfill gas-fired cogeneration facility with its Golden Watchdog Award.
For more detailed information on the Public Utilities Renewable Energy and Efficiency Program, visit www.sandiego.gov/mwwd/environment/energy.shtml.