Lakes and Recreation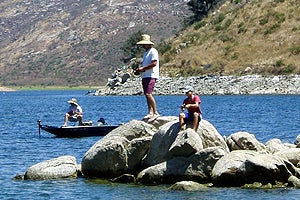 What are commonly referred to as the San Diego City lakes are actually impounding reservoirs that are part of the City's municipal water-supply system.
The City has offered public recreational use of its reservoirs since 1913, when the core of the present water storage system was purchased from private operators.
The City is widely recognized as a pioneer in multiple use (for recreation) of water supply reservoirs. The public is provided supervised recreational access to all of the City's reservoirs for a variety of traditional outdoor activities including fishing, boating, hiking, picnicking, waterfowl hunting and more. In addition, the City offers a popular water contact program with seasonal access for water-skiing, jet skiing and windsurfing.
Attention: Reservoir schedules are subject to change and occasional closures. Please be sure to check What's New for this and other important information.