Lower Otay Reservoir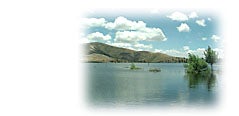 The Lower Otay reservoir serves as a terminal reservoir for a significant sized watershed, imported water aqueducts and a source of local water for the Otay Drinking Water Treatment Plant. For these reasons, the reservoir intentionally operates at a higher capacity level than many of the other City reservoirs which are used primarily for storage and rely on local rain and snow runoff.
In 1897, the first Lower Otay Dam was completed by the Southern California Mountain Water Company. The Lower Otay Reservoir was connected to the City of San Diego's water system in 1906 via the Bonita Pipeline. Following heavy rains, the dam burst in 1916 and the Otay Valley was flooded. The dam was rebuilt in 1918 and renamed Savage Dam. When full, Lower Otay Reservoir has 1,100 surface acres, a maximum water depth of 137.5 feet, and 25 shoreline miles. Lower Otay Reservoir has a water storage capacity of to 47,066.9 acre feet. Water levels are monitored weekly. The reservoir is the home of the United States Olympic Training center for rowing sports.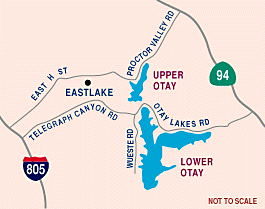 The picnic area at Lower Otay Reservoir has 13 barbecues and 16 picnic tables. Patrons can bring self-contained gas barbecues for use in designated areas only. No ground fires or glass containers are allowed. Dogs must be kept on a leash at all times and at least 50 feet away from the water. Overnight camping is not allowed at Lower Otay.
Concession
Please see "What's New" - Lower Otay for current days and hours of operation. They rent boats on a first come basis only, no reservations. They sell California state fishing licenses. There is bait available - shiners, crawdads, nightcrawlers, meal worms and wax worms. Patrons can use credit cards for boat rentals and other purchases, but permits are cash only.
Fishing
Fishing and boating is permitted on Wednesday, Saturday and Sunday only. At times when the concession is closed on regularly open days patrons can purchase permits from the electronic pay station or the iron ranger boxes (envelope system) at the lake. Lower Otay's fish include Florida-strain largemouth bass, bluegill, black and white crappie, channel catfish, blue catfish, white catfish and bullhead. Minimum size limit for bass is 12 inches. Fish limits are five bass, five catfish and 25 crappie and bluegill in aggregate, with no limit on other species. Fish catch information is updated weekly. Anglers 16 years of age or older must have a California state fishing license. Fish catch information is updated weekly.
Water Craft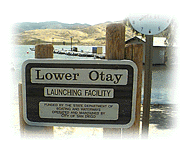 In addition to fishing from boats, patrons can use float tubes, waders, or simply fish from shore. Use of float tubes is restricted to within 150 feet or less from shore. Float tubers must wear chest waders and have a Coast Guard approved personal flotation device readily available at all times, and have 144 square inches of international orange visible at least 12 inches above the water line. They must also possess a horn or whistle to warn approaching craft. Any float tube that uses oars or has a motor must purchase a private boat use permit. Dogs are not allowed on any boats.
Directions
From Interstate 805, take Telegraph Canyon Road exit east. Turn right on Wueste Road south and continue to the reservoir entrance.
More Information