San Vicente Reservoir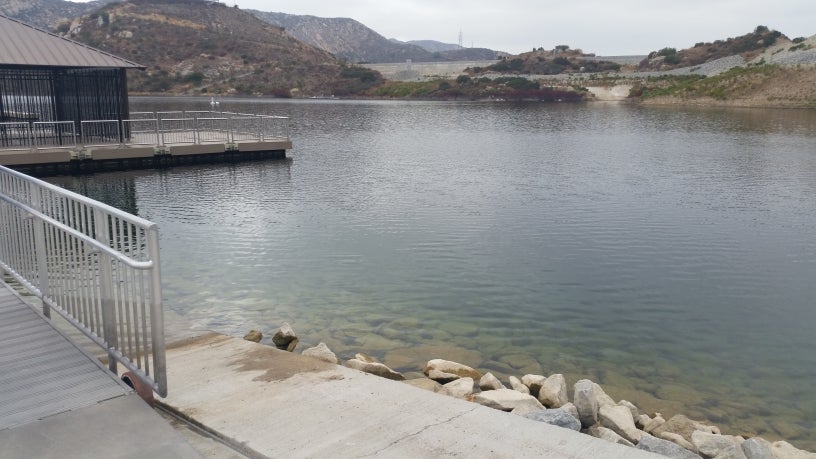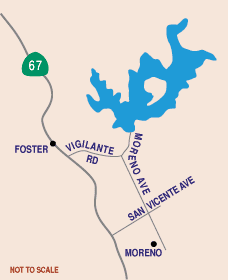 San Vicente is a deep, steep-sided impounding reservoir on San Vicente Creek, approximately 25 miles northeast of San Diego. It currently has a depth of 306 feet when full. Water levels are monitored weekly.
No swimming or wading permitted; body contact only permitted as incidental to water contact activities (water-skiing, wakeboarding, etc.).
Dam Raise Project
The City of San Diego, in partnership with the San Diego County Water Authority, designed and built the dam raise project to ensure a six-month supply of drinking water for the San Diego region in the event imported water deliveries are interrupted or impacted by drought. The dam raise added 152,000 acre-feet of water storage capacity to the reservoir.  For more information, see the San Diego County Water Authority's

San Vicente Dam Raise Project fact sheet.
Concession
Rentals and concession services provided by Rocky Mountain Recreation.  Please call 619-390-1918.
Fishing
Please see "What's New – San Vicente" for current days and hours of operation.
The reservoir was originally stocked with Florida-strain largemouth bass, crappie, bluegill, channel catfish, blue catfish, green sunfish, and carp. Minimum size limit for bass is 12 inches and 10 inches for crappie. Fish limits are five bass, five catfish, 25 crappie and bluegill in aggregate, with no limit on other species.
Anglers 16 years of age or older must have a California state fishing license (link is external). Fish catch information is updated weekly.
Water Craft
In addition to fishing from boats, patrons can use float tubes, waders or simply fish from shore in areas marked specifically for this recreation. Use of float tubes is restricted to within 100 feet or less from shore. Float tubers must wear chest waders and have a Coast Guard approved personal flotation device readily available at all times and have 144 square inches of international orange visible at least 12 inches above the water line. They must also possess a horn or whistle to warn approaching craft. Any float tube that uses oars or has a motor must purchase a private boat use permit.
Boats are either classified as fishing or water contact; there are no mixed boats. If a boat has the water contact launch, it is classified as a water contact boat and everyone on board must pay the water contact fees.  Water contact permit holders may both fish and ski with just the water contact permit.
San Vicente allows waterskiing, wakeboarding and the use of three-person personal watercraft.  San Vicente allows three-person personal watercraft (jet skis) to tow skiers or inflatables in the waterski zone.**3 Seater PCW may only be used for towing purposes; NO free style use permitted**
Directions
From state Route 67, take Vigilante Road east, turn left on Moreno Avenue and continue to the reservoir entrance.
More Information