San Vicente Reservoir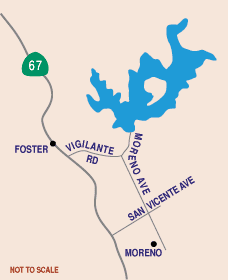 San Vicente is a deep, steep-sided impounding reservoir on San Vicente Creek, approximately 25 miles northeast of San Diego. It currently has a depth of 306.00 feet when full. Water levels are monitored weekly.
Construction Work
The San Diego County Water Authority is overseeing the construction of the San Vicente Dam Raise Project, which began in early 2009. Refilling the reservoir after construction will take another two to five years. The San Vicente Dam Raise Project is part of the Water Authority's more than $1 billion Emergency Storage Project, which is creating new emergency water storage and pipeline connections to deliver water throughout the region if our imported water supply is disrupted. When complete the reservoir will be able to store an additional 152,000 acre-feet of water supply.
For more information, see the County Water Authority's web pages for the Emergency Storage Project and the San Vicente Dam Raise Project.
Recreational Activities
San Vicente Reservoir is currently closed to all public access and recreation during construction of the reservoir's dam to increase water storage capacity. There is no estimated opening date at this time; more information will be made available when a date becomes official.
As part of the San Vicente Dam Raise Project, the San Diego County Water Authority will also construct a new marina for the reservoir. The new marina will reduce boat launching wait times, provide picnic and shade areas, and increase the parking spaces and areas for boat preparation.
More Information