Sutherland Reservoir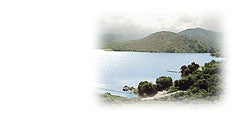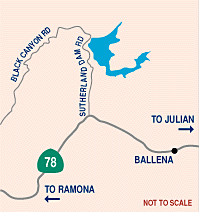 Construction on Sutherland Dam began in 1927, but it was not completed until 1954. Sutherland Reservoir is located approximately 45 miles northeast of San Diego. When full, the reservoir has 556.8 surface acres, a maximum water depth of 145 feet, and 5.25 shoreline miles. Sutherland Reservoir has a water storage capacity of 29,508 acre feet. Water levels are monitored weekly.
The reservoir's picnic area includes four barbecues and 12 picnic tables. Patrons can bring self-contained gas barbecues for use in designated areas only. No ground fires or glass containers are allowed. Dogs must be kept on a leash at all times and at least 50 feet away from the water. Dogs are not allowed on any boats. There is no camping allowed at Sutherland.
Fishing
Please see "What's New" - Sutherland for current days and hours of operation. Sutherland's fishing season runs March through September. Sutherland offers fishing for Florida-strain largemouth bass, bluegill, crappie, red ear sunfish, channel catfish, blue catfish, bullhead, and carp. Minimum size limit for bass is 12 inches. Standard daily bag limits are five bass, five catfish and 25 crappie, with no limit on other species. Anglers 16 years of age or older must have a California state fishing license. State fishing licenses are not available at Sutherland. Fish catch information is updated weekly.
Water Craft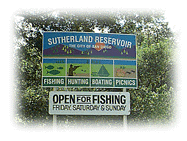 Please see "What's New" - Sutherland for current days and hours of operation. In addition to fishing from boats, patrons can use float tubes, waders, or simply fish from shore. Use of float tubes is restricted to within 150 feet or less from shore. Float tubers must wear chest waders and have a Coast Guard approved personal flotation device readily available at all times, and have 144 square inches of international orange visible at least 12 inches above the water line. They must also possess a horn or whistle to warn approaching craft. Any float tube that uses oars or has a motor must purchase a private boat use permit. Dogs are not allowed on any boats.
All private boats launching at Sutherland will be inspected for quagga mussels, boat launches are permitted on weekends only during their open season. Boats must be clean and dry or they will not be permitted to launch. Please review

inspection procedures .
Turkey Hunting
Turkey hunting is offered at Sutherland only and the Spring season runs from the end of March to the beginning of May. Reservations are distributed at the Turkey Tune-up in February and all spots are sold at that time. Please check the "What's New" page, Sutherland hunting for the location, date and time of the lottery that will be posted by the end of January.  For further information please 619-668-2050 or email [email protected].
Directions
From Interstate 15, take the Scripps Poway Road exit toward Mercy Road, turn right on Scripps Poway Road, turn left on state Route 67 (which will eventually become state Route 78), turn left on Sutherland Dam Road, and continue to the reservoir entrance.
More Information