Upper Otay Reservoir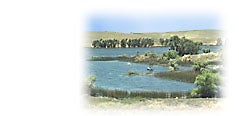 The smallest of the City of San Diego's impounding reservoirs, Upper Otay Reservoir was established in 1959 as a hatchery for the propagation and introduction of Florida-strain largemouth bass. Remarkably, 21 of the 25 largest bass in history were the progeny of the fingerlings used in that experiment. The reservoir has been open to the public since 1996. When full, Upper Otay Reservoir has 20 surface acres. Water levels are monitored weekly.
The gates to Upper Otay Reservoir are open on a seasonal schedule from February 1 through October 31 (weather permitting). Pedestrian access is allowed for fishing on Wednesday, Saturday, and Sunday on a year-round basis.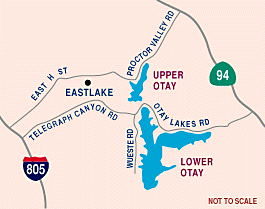 There are no barbecues or picnic tables at Upper Otay. Patrons can bring self-contained gas barbecues for use in designated areas only. No ground fires or glass containers are allowed. Dogs must be kept on a leash at all times and at least 50 feet away from the water. There are no concession services at Upper Otay. Daily permits may be purchased at the Iron Ranger pay station (bring exact change) onsite or at nearby Lower Otay Reservoir. There is no camping allowed at Upper Otay.
Fishing
Upper Otay offers fishing for Florida-strain largemouth bass, bluegill, and bullhead. Fishing is offered on a catch and release (zero kill) basis, with barbless artificial lures only for all species of fish. Anglers 16 years of age or older must have a California state fishing license. State fishing licenses are not available at Upper Otay. Fish catch information is updated weekly.
Water Craft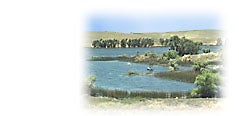 Patrons can use float tubes, waders, or simply fish from shore, no boats allowed. Use of float tubes is restricted to within 150 feet or less from shore. Float tubers must wear chest waders and have a Coast Guard approved personal flotation device readily available at all times, and have 144 square inches of international orange visible at least 12 inches above the water line. They must also possess a horn or whistle to warn approaching craft. Any float tube that uses oars or has a motor must purchase a private boat use permit for $7.00.
Directions
From Interstate 805, take Telegraph Canyon Road exit east, and continue past Wueste Road (Telegraph Canyon then becomes Otay Lakes Road). Make a left turn at the Upper Otay Reservoir sign.
More Information