Waterskiing / Wakeboarding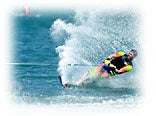 Waterskiing / wakeboarding and towing of inflatables is offered at El Capitan and San Vicente's reservoir in San Diego County: El Capitan Reservoir and San Vicente Reservoir. See What's New for the current schedule. Only three-person personal watercrafts are permitted at San Vicente and may tow skiers.
General direction of all vessels is counterclockwise.
Maximum speed limit is 35 mph.
All vessels towing a skier must have an observer 12 years of age or older.
Coast Guard approved life preservers must be worn by all skiers.
Skis, kneeboards and similar devices are permitted. Inflatable and towed devices may be used in any ski zone. Use of a quick release device is recommended.
Dogs are NOT permitted on any boats (rental or private). Dogs must be kept on a leash and at least 50 feet away from the water.
Each person (8 years or older) entering reservoir property must purchase a daily use permit, which is non-transferrable. See Permits & Fees (daily) for prices.
Each boat also needs a private boat use permit. All permits are available from reservoir staff at permit booth or concession stand, the electronic pay station or iron ranger pay station (open only when the electronic pay station is out of service-exact change needed for this payment option).