Frequently Asked Questions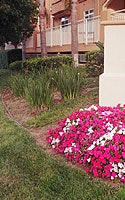 Why is the City of San Diego pursuing water recycling?
During the drought in the early 1990's, City residents became aware of how precarious the City of San Diego's position is during a water resource crisis. Currently, the City imports up to 90 percent of its total drinking water supply from Northern California and the Colorado River. Our demand for water will continue to increase as our population continues to grow. The use of recycled water as an alternative water resource for irrigation and commercial processes will help the City meet our future water needs and reduce wastewater flows into the ocean outfall.
What is the Water Reuse Study?
In January 2004, the San Diego City Council authorized a comprehensive evaluation of all viable options to maximize the usage of recycled water. The Water Reuse Study also included analysis and research on the health effects of reuse options and a public participation process. The Reuse Study's stakeholders identified Reservoir Augmentation at the City's San Vicente Reservoir to be their preferred strategy. In October 2007, the San Diego City Council also recognized the North City-3 strategy, also known as San Vicente Indirect Potable Reuse, as their preferred alternative.
What about water conservation?
Currently, the City's Water Conservation Program has a conservation policy goal of 32,000 acre-feet (AF) by 2010; 36,000 AF by 2020 and 46,000 AF by 2030. Although conservation is effective in saving precious water resources, it will not be enough to offset the future demands for additional water. It will take a combination of alternatives - including conservation and the use of recycled water - to meet the City's future demand.
Is recycled water available during a drought?
Yes, a full supply of recycled water is available during a drought and generally is not restricted for outdoor use during normal water supply conditions or droughts. During prolonged droughts, retail water providers have often restricted the use of drinking water (potable water) for outdoor use and landscape irrigation. This may result in costly replacement of plant materials. The continuous, year-round availability of recycled water is an economic and environment benefit.
What about desalination?
Seawater desalination represents a new, safe, and drought-proof water supply that will reduce the San Diego region's over reliance on imported water from the Colorado River and Northern California. Seawater desalination is a process that removes salts and other impurities from seawater. Used in many areas of the world where fresh water is scarce, seawater desalination produces very safe, high-quality water suitable for drinking and other potable water uses.
Until recently, seawater desalination was not considered a viable water supply option for California because of its high cost. However, continuing advances in reverse osmosis technology have brought the cost of seawater desalination down dramatically.
What is recycled water used for in San Diego?
Landscape irrigation is the single largest use for recycled water within San Diego. In addition, recycled water may be used for some industrial processing, cooling towers, and soil compaction and dust suppression at construction sites. Furthermore, recycled water may be used in recreational lakes, ponds and ornamental fountains, for wetlands restoration and for the irrigation of commercial nurseries and crops.
Is recycled water safe?
Water recycling is a safe way to preserve our natural water resource. In addition, recycled water projects are designed and operated to protect public health. Careful monitoring by responsible local health authorities and water quality control agencies also ensures that the City of San Diego produces a highly treated, filtered and disinfected product that meets the State Department of Health Services criteria. No health-related problems have been traced to any of the water recycling projects currently operating in California.
Does recycled water smell or look different than tap water?
Recycled water is the end product of a three-stage treatment process in which municipal wastewater is settled out, biologically oxidized, clarified, chemically coagulated, filtered and disinfected. The resulting water is clear and colorless. Although recycled water may have a slight chlorine smell, it is visibly indistinguishable from tap water to the human eye.
Beyond what the senses can perceive, recycled water does not contain any constituents that exceed federal and state drinking water standards for heavy metals, minerals, trace organic compounds, pesticides and microorganisms. However, this process does not treat recycled water to drinking water standards.
Are there any health or water quality laws that apply to recycled water?
There are very stringent water quality laws that apply to recycled water. The State Department of Health Services standards for recycled water are referred to as "Title 22." These standards are incorporated in Title 22, Chapter 3, Division 4 of the California Code of Regulations, with stipulations applying to various types of reuse, and levels of required treatment. The Regional Water Quality Control Board is involved with respect to the use and application of recycled water and any associated runoff.
What uses does California Code of Regulations Title 22 allow?
Title 22 allows for many uses of recycle water. In San Diego the uses for recycled water include irrigation of food crops, parks, playgrounds, school yards, residential landscaping, cemeteries, freeway landscaping, golf courses, ornamental nurseries, pasture for animals, orchards, and vineyards. In addition, recycled water can be used for fishing or boating recreational impoundments, fish hatcheries, cooling towers and decorative fountains. Other allowable uses include flushing toilets and urinals, industrial process water, commercial laundries, making artificial snow, soil compaction, mixing concrete and flushing sanitary sewers.
Will constituents in the water, such as salts, harm landscaping?
There are various constituents in recycled water that exceed those found in the drinking water supply, including total dissolved solids (or salts). For example, although recycled water contains a slightly higher salt content, turf grass irrigated with recycled water will continue to flourish.
With proper drainage and good management, landscape irrigated with recycled water will continue to thrive. Moreover, there are some constituents, such as nitrogen and phosphorus found in recycled water. These constituents are beneficial for plant growth, and will serve as an additional "fertilizing" source.
Will there be damage to my car, my house, etc., if it is sprayed with recycled water?
One of the regulations required by the Regional Water Quality Control Board for the use of recycled water is to minimize or prevent recycled water from leaving the reuse area. Each user is responsible for insuring the minimization of runoff or spray leaving the area of intended use. However, if recycled water does come in contact with your car or home, it doesn't contain high enough levels of salts or other constituents to do any damage. Recycled water does not contain the high salt levels of sea water or other corrosive-type waters. Simply rinsing off your car or home will be sufficient insurance against any remote chance of damage.
How much does recycled water cost?
The monetary savings are substantial when using recycled water. The cost for recycled water is .80 cents per hundred cubic feet (HCF) of water, which is equal to 748 gallons. This is a tremendous deal when compared to the current potable water rate which is about $3.61 per HCF.
How will recycled water get to the ultimate users?
The City has a recycled water distribution system to deliver recycled water to customers. Recycled water must be conveyed in a system separate from the existing water or sewer systems. This system has been built along routes that are cost effective with the intent to maximize the use of recycled water.
What are the rules and regulations for recycled water use?
Since recycled water is not treated to drinking water standards, customers are required to adhere to regulations which minimize or eliminate possible misuse. The publication, Rules and Regulations for Recycled Water Use, is available to recycled water customers. These regulations were developed in cooperation with other City departments as well as the San Diego County Department of Environment Health and San Diego County Water Authority.
The publication also includes input from public forum meetings with representatives from the building industry, landscape architects, golf course superintendents, and other large irrigation and industrial users. Copies of this manual are distributed to recycled water customers. Others may receive a copy for a nominal charge by contacting the City's Development Services Department, Publications Section, at (619) 446-5100 or visiting their office on the second floor of the Development Services Center, 1222 First Avenue, San Diego.
What kind of signage is required to protect the public from recycled water?
One of the requirements for sites using recycled water is the placement of signs around the reuse area to advise the public that recycled water is being used. Statewide, these signs commonly portray a positive message that the business is participating in potable water conservation by using recycled water. The signs for use within the City of San Diego read "We are conserving our most valuable resource by irrigating our landscaping with recycled water," as well as the message "Caution - Do Not Drink." In addition, pipes, sprinkler heads, meter boxes and other irrigation equipment must be properly marked or color coded purple to avoid any potential for cross-connections and to distinguish the equipment from potable supplies equipment.
What training does the City provide to these users in retrofitting?
A Recycled Water Certification Workshop is conducted several times a year by the San Diego County Water Authority for potential recycled water users. These classes offer information on the basics of recycled water to include how it is produced, water management, irrigation techniques, cross-connection prevention, health issues, and record keeping. Tours to a local water recycling plant are also offered to get a first-hand look at the water recycling treatment process.
When a user's site is completely retrofitted for recycled water use, the Water Department and the County Department of Environmental Health will inspect the site to insure there are no cross-connections and all the Rules and Regulations have been adhered to.
What happens when the wastewater flow into the water recycling plant exceeds the demand for recycled water?
The City is committed to identifying customers to maximize the use of recycled water. However, recycled water use for irrigation is seasonal and customers are likely to use less during the winter months. The City is working to identify commercial and industrial water customers that present a year-round demand. The Water Reuse Study is investigating all opportunities to optimize the production and use of recycle water in the city. In the meantime, the City only produces the amount of recycled water needed to meet our customer's needs. Storage options and other water management strategies are also being explored in order to maximize the water recycling program. After all other alternatives have been exhausted, any excess wastewater will only be treated to a secondary level and disposed via the ocean outfall.
Where is recycled water used in the City of San Diego?
In San Diego, some of the largest customers are the Torrey Pines Golf Course, UCSD, City Parks and Recreation and several well-known businesses. Uses include landscape irrigation and source water for toilet/urinal flushing and air conditioning cooling towers for commercial buildings.
Is recycled water being used in other places in San Diego County?
There are many agencies in San Diego County currently producing and distributing recycled water to customers. Uses vary from landscape irrigation at schools, apartment complexes, parks, decorative ponds, fountains, and recreational lakes. Additional uses by other places in San Diego County include dust control, manufacturing concrete blocks and washing government vehicles.
Local producers and distributors of recycled water include the City of Carlsbad, City of Escondido, Padre Dam Municipal Water District, Olivenhain Municipal Water District, and Vallecitos Water District. The Santee Lakes Recreation Preserve, operated by the Padre Dam Municipal Water District, has used recycled water to fill artificial lakes and irrigate the preserve's landscaping in Santee since the early 1960's.
For a list of all recycling projects in San Diego County, see the San Diego County Water Authority's website at www.sdcwa.org and click on Water Management/Recycling/Recycled Water Facilities.
Where else is recycled water used?
In southern California, the Irvine Ranch Water District has distributed recycled water for over thirty years. Recycled water is used in high-rise office buildings for toilet and urinal flushing. In Los Angeles and Orange counties, recycled water is injected into groundwater storage basins to prevent saltwater intrusion into the basins near the coastline. Additionally, in Orange County, recycled water that has undergone additional advanced treatment is added to groundwater supplies that are used as a source of drinking water.
Recycled water is used in many ways and in many states across the country. In Arizona, Texas, Virginia and Florida, recycled water is added and blended with water sources in reservoirs and underground storage basins that are used as drinking water supplies.
Globally, Israel, Jordan and Australia are considered leaders in the use of recycled water.
For more information on water recycling projects, see the WaterReuse Links and Resources.
If you are interested in learning more about recycled water, please email us at [email protected].