Guaranteed Water Program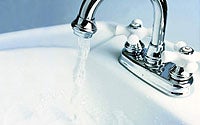 The Guaranteed Water Program exempts research and development or industrial manufacturing firms from mandatory water restrictions in times of drought in exchange for their participation in daily water conservation programs, including the use of recycled water.
To qualify, a company must use recycled water where feasible, install ultra low-flow toilets, water-conserving showerheads and other water-efficient fixtures. Once this is done, the business is exempt from mandatory water supply cuts during a Water Warning when other businesses are being required to conserve water. According to

San Diego Municipal Code 67.3806(d), a water warning occurs when the Public Utilities Department is not able to meet the demands of its customers. Upon implementation, local businesses are required to conserve water while businesses under the Guaranteed Water Program are exempt from mandatory cutbacks.
To participate in the City's Guaranteed Water Program, businesses can contact the City of San Diego's Guaranteed Water Program, Representative at (619) 236-6350.
If you are interested in learning more about recycled water, please email us at [email protected].