What to Know About the City of San Diego's H Barracks Plan
In order to provide more shelter options and locations for expanding homeless shelter opportunities, the City of San Diego has identified the H Barracks, near Harbor Island, as a potential site.
Image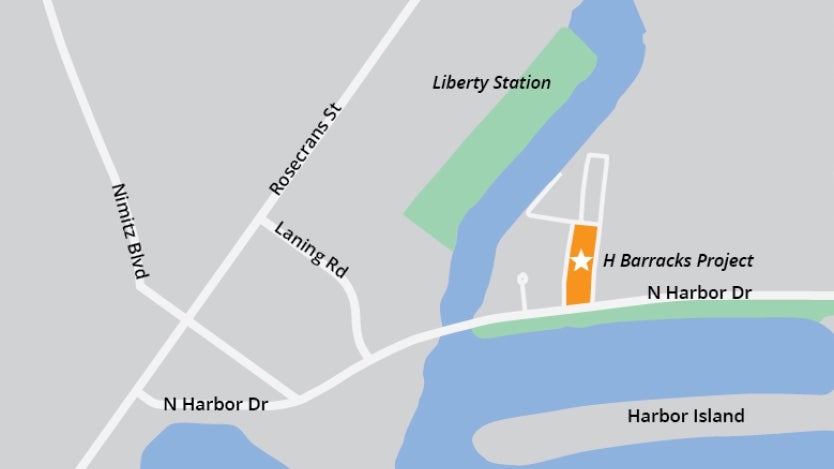 Earlier this year, the City released our Comprehensive Shelter Strategy, a plan outlining short-, medium- and long-term solutions to get San Diegans experiencing homelessness off the streets and into permanent housing. 
The Shelter Strategy identifies several possible options for underused City-owned land and other public facilities that could be put to use to help address this crisis. 
H Barracks is City-owned industrial land located off North Harbor Drive between Kincaid Road and McCain Road, sandwiched between the San Diego International Airport and an inlet of the North San Diego Bay. H Barracks is approximately a 25-minute walk from Liberty Station.
The site has served as a police and fire department training facility and was identified as one of those sites that could accommodate a shelter and services. The training facilities are set to be relocated, and in five years, the City plans for the site to host a Pure Water recycling facility. In the meantime, it can be put to work helping address homelessness. 
City staff is gathering community and stakeholder input that will be used to develop plans for the site. What is certain is that it will have what all City facilities serving people experiencing homelessness have: 24-hour onsite security, privacy fencing, connections to transit and transportation, and connections to services that will help people end their homelessness, like mental health resources, substance abuse counseling, case management, housing navigation and medical care assistance. 
The City is taking an all-hands-on-deck approach to addressing homelessness from every possible angle, and projects like H Barracks are critical to our efforts to get people off our streets and into safe shelter and housing.