History
In 2018, San Diego was awarded the Gateways for Growth grant to organize a steering committee of local government agencies, non-profit organizations, educational institutions, community leaders, and businesses to develop a strategic plan to advance the integration of immigrant communities in the region.
Then in 2019, the City of San Diego formally launched the Welcoming San Diego initiative, accompanied by the Welcoming San Diego Strategic Plan, a set of recommendations to advance the civic, social, and economic integration of immigrants, refugees, and asylees in San Diego. During the same year, Mayor Kevin Faulconer appointed the City's first-ever Immigrant Affairs Manager to advance the many priorities and objectives in the Strategic Plan.
On December 17, 2021 the City Council approved a

resolution to formally declare the City of San Diego as a Welcoming City.
In July 2022, Mayor Todd Gloria established the City of San Diego's Office of Immigrant Affairs to advance immigrant rights and craft policies and services to support immigrant families in San Diego.
MAYOR GLORIA'S IMMIGRATION ACTIONS
Mayor Todd Gloria is committed to enhancing immigrant rights in San Diego and to continue fostering a more welcoming city for all our immigrant communities in San Diego.
Mayor Gloria currently co-chairs Cities for Action, a national coalition of more than 170 mayors and county executives advocating for pro-immigrant policies in the United States. Additionally, Mayor Gloria serves as Vice-Chair for Border Policy at the US Conference of Mayors, which focuses on a range of border issues and policy topics in America's northern and southern border regions.
During the pandemic, when the Biden administration needed shelter space for unaccompanied migrant children at the border, Mayor Gloria also led the transition of the San Diego Convention Center from its typical event venue into a temporary migrant and refugee shelter, while continuing to respond to the other many challenges presented by the COVID-19 pandemic.
Mayor Gloria established the Office of Immigrant Affairs at the City of San Diego to ensure the continuation of our city's pro-immigrant policy-making and the continued implementation of our Welcoming San Diego Strategic Plan to develop a welcoming city for immigrants, refugees, and asylees.
Meet the Team
Rita Fernández
Executive Director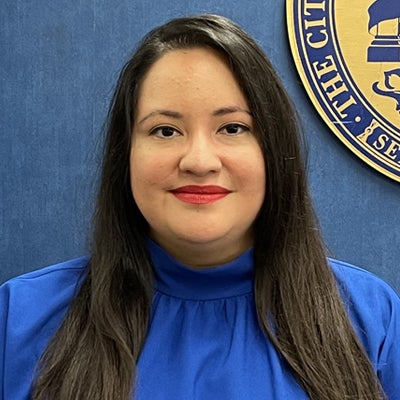 Rita currently serves as Executive Director of the City of San Diego's Office of Immigrant Affairs, an office created by Mayor Todd Gloria to continue advancing San Diego's welcoming policies. She previously served as Director of Global Affairs for Mayor Todd Gloria, overseeing all international affairs issues for the City of San Diego, including its relationships with the City of Tijuana and Baja California, and other global ties.
Prior to this role, Rita was appointed by Mayor Kevin Faulconer to serve as the first Immigrant Affairs Manager for the City of San Diego in 2019, after the City launched its Welcoming San Diego Strategic Plan, where she was tasked to evaluate the many recommendations in the plan and put together a path forward for city implement this plan.
Prior to that, she was Associate Director in Los Angeles Mayor Eric Garcetti's Office of Immigrant Affairs. Before joining the Immigrant Affairs office for the City of Los Angeles, Rita was part of Mayor Garcetti's communications office where she worked on immigration, education, labor, and sustainability issues.
Prior to working in Mayor Garcetti's office, Rita served in the Washington, DC office of Congressman Juan Vargas, who represents both San Diego and Imperial Counties. Rita worked closely with immigration and border issues, given that Rep. Vargas represents the only congressional district on the U.S./Mexico border in California. During her time as a Press Aide to Rep. Vargas, Rita coordinated media operations in the office and also managed a policy portfolio on women's issues.
Rita was born and raised in the city of Chula Vista in southern San Diego County and is the daughter of Mexican immigrants. In 2010, she received a Bachelor of Arts degree in Political Science from the University of San Diego.
Matthew Griffith
Program Coordinator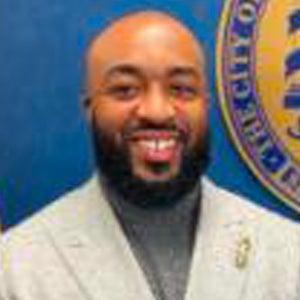 Matt currently serves as the Program Coordinator of the City of San Diego's Office of Immigrant Affairs, which Mayor Todd Gloria created to continue advancing San Diego's welcoming policies. He previously served as Community Representative, appointed by Mayor Todd Gloria. In this role, he oversaw multiple City Council Districts, along with the BIPOC, Tribal, and Senior constituencies, and advised Public Safety for community engagement. Matt was able to represent the Mayor and provide direct access to communities that had been long forgotten by previous administrations. 
Prior to serving in the Mayor's office, Matt worked in education as a Learning Associate at e3 Civic High School in the Special Education Department. While at e3 he established a tutoring and mentorship for young black and brown male scholars, where he was able to see a full 100% high school graduation from the students he mentored. In addition to his work in education, Matt worked for the County of San Diego's Assessor and the County of San Diego's Treasurer and Tax Collectors Office.
Matt is a local home-grown product of San Diego, a graduate of Lincoln High School, where he lettered in Football, Soccer and Track and Field. He has studied at the Sorbonne University in Paris, France and San Diego State University, where he earned a degree in Public Administration with a minor in Economics along with a Master's in Public Administration along with MBA coursework from Harvard Business School. He is the son of a Trinidadian immigrant, and proudly has Choctaw Nation in his blood.
Riley Minkoff
Legal Services and Policy Fellow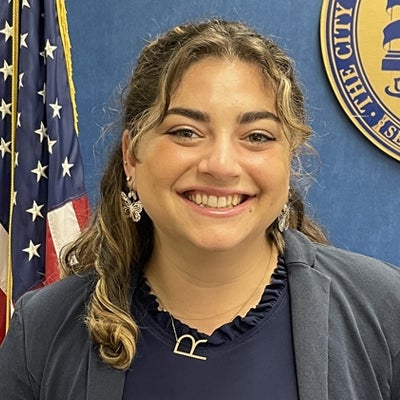 Riley Minkoff is the Legal Services and Policy Fellow for the Office of Immigrant Affairs. Prior to working with OIA, Riley was an intern with the Office of Global Affairs for Mayor Todd Gloria. Her previous political experience includes working for Long Beach Councilwoman Stacy Mungo and Congressman Alan Lowenthal (CA 47). She has also gained legal experience working for an immigration firm in Pennsylvania, the University of San Diego pro bono Immigration Legal Clinic, the Centers for Public Interest Law (CPIL), and U.S. Federal Magistrate Judge Jill Burkhardt in the Southern District of California.
She is a currently a Law Student and Masters of Peace and Justice Student at University of San Diego in the joint JD/MAPJ program and expects to graduate with both degrees in the spring of 2024. She received her B.A. in Political Science, Spanish, and Women's and Gender Studies from Muhlenberg College in 2020, where she graduated Summa Cum Laude.
Riley has studied in Spain, France, and the U.K. and enjoys learning from and working with people from different cultures. She hopes to continue to help people from around the world seek safety and refuge in the U.S. and is excited to work with the San Diego immigrant community by providing legal and policy support for the office.
---
CONTACT US
You can reach the Office of Immigrant Affairs via email at ImmigrantAffairs@sandiego.gov.
---
Join the Team
Office of Immigrant Affairs Internship
Description: The Office of Immigrant Affairs (OIA) at the City of San Diego is currently looking for interns to work on immigrant affairs projects including research and analysis, community outreach, written projects, and other duties.
Interns will report directly to the Executive Director of Immigrant Affairs and will receive projects from other OIA staff as well.  Internships are open to undergraduate and graduate students on a part-time basis of 15-25 hours a week. Interns support a range of assignments, but internships can be specialized on policy, communications, or outreach.
About OIA
Mayor Todd Gloria created the Office of Immigrant Affairs in July 2022. The mission of OIA is to ensure that the City of San Diego is addressing the needs of our diverse immigrant and refugee communities, that their voices are heard in City Hall, and that foreign-born residents in San Diego are connected to City departments and services.
Tasks and responsibilities:
Conducting research for internal policy documents, informational materials, and public documents by tracking and analyzing federal, state, and local immigration legislation.
Assisting with in-person and virtual events and meetings by tracking invitation and attendee lists, aiding with event coordination, and compiling materials for event participants.
Compiling daily press clips on the topics of global migration by monitoring local, national, and international media outlets.
Assisting OIA staff with social media account content by composing draft social media posts on immigration topics for Twitter, Instagram, and Facebook.
Assist with compiling monthly Office of Immigrant Affairs newsletter by identifying relevant topics, upcoming events, and other useful topics to highlight.
Assist with design and content for outreach materials including flyers, infographics, and other items for members of the public.
Support staff in development and implementation of OIA's immigrant integration initiatives with outreach, research, and written projects as needed.
Qualifications Requirements:
Strong written and verbal communication skills.
Good interpersonal and teamwork abilities.
Multi-tasking skills and organizational skills. 
Interest in migration policy and immigrant integration services and programs.
Ability to research complex policy areas and produce accurate analysis.  
Foreign language skills are not required but are a plus. 
To apply: Please email a cover letter, resume, and writing sample to Rita Fernandez, Executive Director, Office of Immigrant Affairs at RSFernandez@sandiego.gov.