Strategic Plan on Immigrant & Refugee Integration 2019-2024 Overview
Overview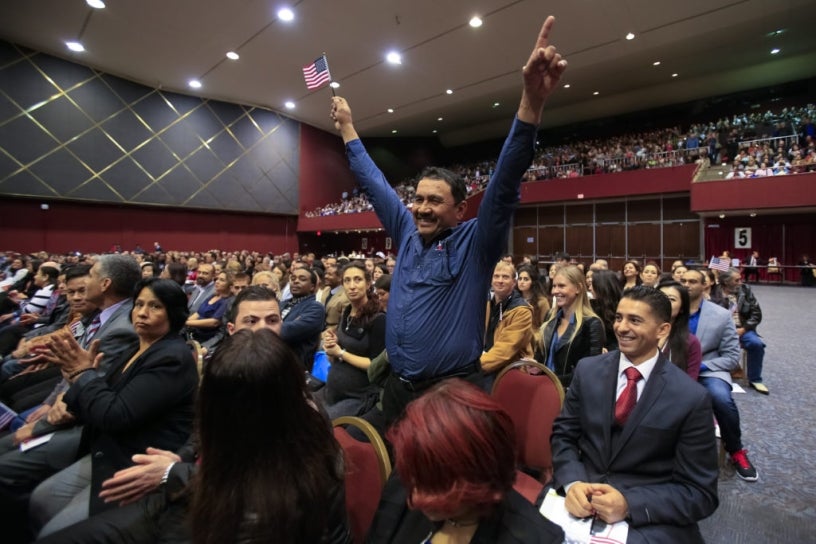 Nelvin C. Cepeda / San Diego Union-Tribune
(Credit Image: © Nelvin C. Cepeda/San Diego Union-Tribune via ZUMA)
Welcoming San Diego is a multi-sector effort to advance the civic, social and economic integration of immigrants and refugees. We envision a vibrant, inclusive and resilient region that attracts families and businesses from around the world and where all San Diegans can flourish.
Uniquely situated on the U.S.-Mexico border, San Diego has long been a destination for migrants in search of opportunity and a longstanding hub for refugees rebuilding their lives. Our heritage, strength, and future are tied to our ability to ensure aspiring New Americans can fully participate in civic life, access public resources and enrich the region with their talents and cultures.
This immigrant integration strategic plan is a culmination of year-long consultations and community forums. The effort is supported by the Gateways for Growth grant from New American Economy and Welcoming America, matched by the California Endowment. As presented during Welcoming San Diego's kickoff summit in February 2018, the evidence of immigrants' contributions is clear: immigrants and refugees who call San Diego home are indispensable to the regional economy. Based on this understanding, the strategic plan presents an opportunity to build on newcomers' assets and desire to succeed, and to work together toward a more connected community.
This document was created with the input of hundreds of residents, dozens of organizations and a cross-sector steering committee covering five topic areas: economic opportunity, education, inclusive access, civic engagement and safe communities. The committee also studied strategic plans, immigrant affairs offices and best practices in peer cities. While we believe the recommendations are comprehensive, and when implemented, will advance our city and region in significant ways, we understand this is the first blueprint that will require further iterations, innovation and evaluation in order to achieve these positive outcomes.
The twenty recommendations begin with four cross-sector recommendations that strengthen the relevant systems and sustains and elevates the collaborations. The remainder of the recommendations are sorted by focus areas. Each of those recommendations has corresponding short-term strategies that can be initiated, funded or scaled in the first three years (2019-2022) that builds upon existing activities among stakeholders. Long-term strategies are to be studied initially, then legislated, piloted or scaled within three to five years, or they can be enacted in the short-term that result in sustained impact beyond five years. Footnotes reference existing programs, best practices or toolkits. By the end of 2020, we will review the status of each short-term recommendation, calibrate timelines and reaffirm the goals. We will also benchmark San Diego's outcomes, policies and practices via the New American Economy Cities Index. By the end of 2022, an impact evaluation will be conducted to measure effectiveness of these strategies.
This plan will require all stakeholders to commit to sustained collaboration, communication and accountability measures. Through working together on these recommendations, we will build an inclusive regional culture that bridges newcomer and native-born communities toward shared prosperity and a common future.
The usage of "immigrants" in this document includes refugees, asylees, asylum seekers and other foreign-born residents living in the U.S.
"Immigrant integration" is a two-way process whereby newcomers and the host society work together to build resilient, cohesive and flourishing communities.
Download Our Two-Page Executive Summary