Vision Zero
Strategic Plan
The Vision Zero 2020-2025 Strategic Plan was developed as a mid-program look at what has been accomplished since adoption of the VZ policy in 2015, and a look a head to the next 5 years and beyond with strategies and actions to continue progress towards zero.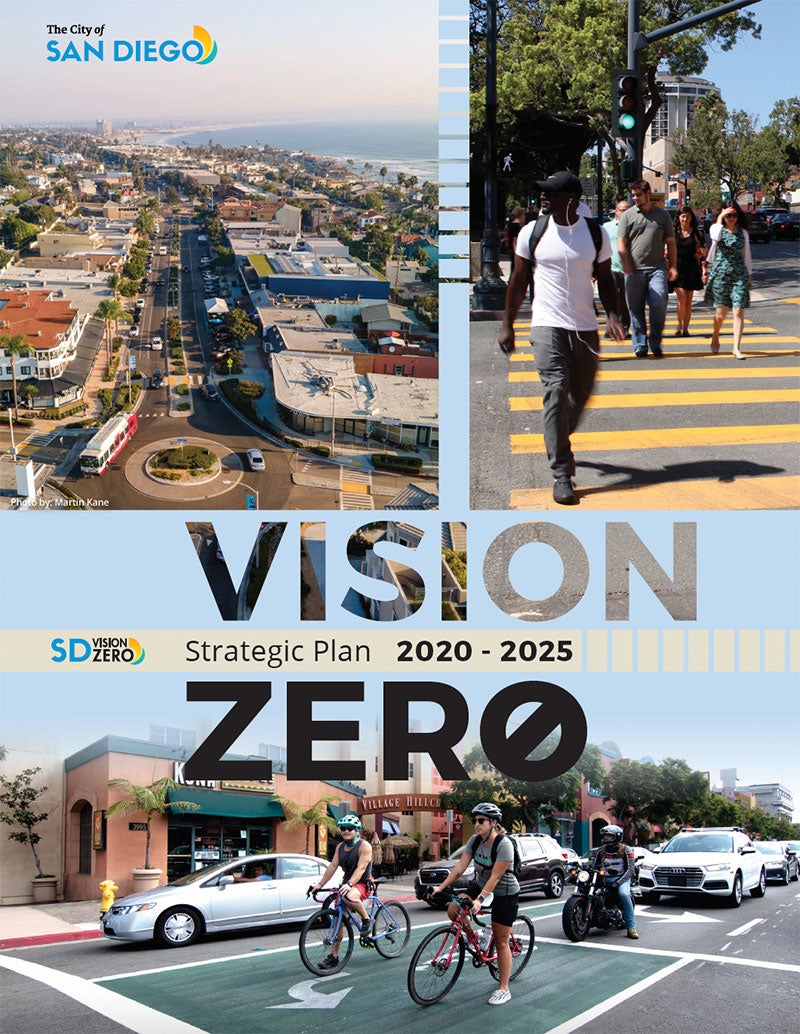 Click to View Strategic Plan
Education:
Raise awareness of traffic safety
Goal
Identify, review and apply for additional grant funding opportunities that would serve to advance the City's Vision Zero campaign. Potential grant opportunities include:
Develop and host a series of Vision Zero exposés. These include:
One per council district

Showcase specific multi-modal safety improvements, educational resources and law enforcement personal
Develop a media campaign strategy In partnership with the City's Communication Department.
Advocate for the regional designation of a Vision Zero week that will serve to heighten public awareness with:
City of San Diego

Mayor Kevin L. Faulconer

City Council

County of San Diego

Board of Supervisors
Engage local stakeholders to improve the regional awareness of the Vision Zero campaign through partnerships with:
City of San Diego (inter-departmental)

City Council

County of San Diego

San Diego Association of Governments

Metropolitan Transit System

San Diego Unified School District
Enforcement
Actions to ensure changes to dangerous behavior
Goal
State and federal legislation:
Work collaboratively with the region's state/federal delegation to explore legislation that would improve multi-modal safety

Consider for inclusion in in the City's legislative platform
Develop a data sharing portal that promotes transparency and accountability:
Evaluate the viability of deferred adjudication through the establishment of a Bicyclist Community Court. This includes partnership with the:
San Diego Bicycle Coalition,
San Diego Bicycle Advisory Committee,
Circulate San Diego, and the
District Attorney's Office.
Begin an analysis of the leading causes of crashes and fatalities in the City, focusing on targeting enforcement of the top five citations.
Utilize existing grant funds to improve enforcement efforts in high priority corridors. Focus on addressing:
Speeding;
Improper u-turns;
Impeding bicycle facilities;
Illegal parking; and
Failure to observe the three-foot passing law.
Evaluate the Police Department Traffic Division's Collision Investigation Unit, identifying methods to increase the number of officers that are certified Collision Reconstructionists.
Engineering
Safety and traffic-reducing improvements on streets where most fatalities
and severe injuries take place.
Goal
Develop a Transportation Strategic Plan. To develop a plan, a consultant and internal staff are reviewing various existing City mobility-related policies and internal goals. Once complete, future work will focus on identifying new policies needed and establishing new service level standards and organizational changes to effectively implement a mobility plan.
Train City staff on complete street planning and design. Form a department internal training program with instruction provided by professional and community organizations.
Identify, assess and recommend specific locations within communities that have higher incidents of severe injuries or deaths for safety improvements and/or traffic calming measures. Pinpoint locations and corridors that have a high-incident rate of severe injuries and deaths.
Implement the University Avenue Complete Street Project. The City and community stakeholders developed a series of innovative traffic calming concepts for University Avenue to help enhance and rediscover the University Avenue corridor as a pedestrian- and transit-friendly environment.  
Update the City's Street Design Manual.
Include Vision Zero Performance Indicator in the Transportation & Storm Water Strategic Plan. This has been implemented.