One Book, One San Diego
---
About One Book, One San Diego
In its tenth year, One Book, One San Diego, is a community reading program sponsored by KPBS, the San Diego Public Library and the San Diego County Library, along with major support provided by the Linden Root Dickinson Foundation, and additional support from the Dr. Seuss Fund at the San Diego Foundation, SDG&E, Lloyd Pest Control, Jerome's Furniture, Cubic, and the Samuel I. and John Fox Foundation.
The purpose of the program is to bring our community together and encourage residents to join in a shared experience of reading and discussing the same book. The program also encourages participation in related events, discussions of the ideas raised in the featured book, and examination of how these ideas connect with our daily lives and local communities.
Additional library partners include Carlsbad Public Library, Chula Vista Public Library, Escondido Public Library, Oceanside Public Library, the Copley Library at University of San Diego, the Love Library at San Diego State University, and the Ryan Library at Point Loma Nazarene University. New this year, the program will go international by expanding to Tijuana: One Book sin Fronteras, comprised of the Asociación de Bibliotecarios de Baja California, and public libraries, schools and universities in the area.
---
2016 One Book, One San Diego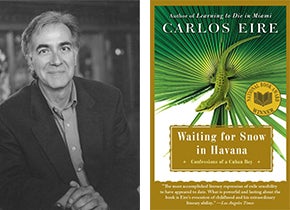 The 2016 One Book One San Diego selection is Waiting for Snow in Havana by National Book Award-winning author, Carlos Eire.
Waiting for Snow in Havana is Carlos Eire's beautiful, nostalgia-laced memoir of his childhood in Cuba, the country he left in 1962 at age 11. Using humor, magical realism and lyrical language, Eire paints a portrait of a childhood shattered forever by the Cuban Revolution. He was one of 14,000 Cuban children brought to the U.S. without their parents as part of Operation Peter Pan. He is now a professor of religion and history at Yale University.
Guide to "Waiting for Snow in Havana: Confessions of a Cuban Boy"
---
Previous Selections
2015 One Book, One San Diego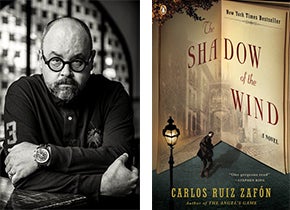 In 2015 One Book, One San Diego was proud to present The Shadow of the Wind by Carlos Ruiz Zafón. Read the KPBS article to learn more about our 2015 author and book. The accompanying young adult (middle school) title is The Dumbest Idea Ever! by Jimmy Gownley and the children's companion title is The Fantastic Flying Books of Mr. Morris Lessmore by William Joyce.
2014 One Book, One San Diego

2013 One Book, One San Diego

In 2013 One Book, One San Diego was proud to present Geraldine Brooks' novel 
Caleb's Crossing.
 The accompanying young adult (middle school) and children's companion titles were 
Jingle Dancer
 by Cynthia Leitich Smith and 
Sees Behind Trees
 by Michael Dorris.