Balboa Park
Balboa Park is made up of more than 1,000 acres and offers 15 museums, various gardens, arts and international culture associations, as well as the San Diego Zoo. All this makes it a place that offers something historical, horticultural, educational and recreational for everyone.
Approximately 14 million visitors come to the park each year. Displays of internationally significant art treasures, exotic animal species, unique model railroads, world folk art, sports memorabilia and rare aircraft -to name a few- are on view in the park's museums.
This urban park, just minutes away from downtown San Diego, is also renowned for its brilliant displays of seasonal flowers, shady groves of trees and meandering paths through rolling lawns. Balboa Park is managed and maintained by the Developed Regional Parks Division of the City of San Diego Park & Recreation Department.
Many of the museums along Balboa Park's Prado are housed in magnificent Spanish Colonial Revival buildings, originally constructed for the 1915-1916 Panama-California Exposition. It was the first time that this richly decorated, highly ornamental architectural style had ever been used in the United States.
Discounted admissions to Balboa Park's major museums are available through the Balboa Park Explorer. Park museums also offer free admission one Tuesday per month on a rotating basis.
The Old Globe Theatre, San Diego's largest arts organization, is located in Balboa Park. On its three stages, the Globe annually presents at least 14 productions and 550 performances.
The rich ethnic diversity of San Diego is reflected in the Park's institutions:
Centro Cultural de la Raza
World Beat Center (celebrating cultures of African origins)
San Diego Museum of Man anthropological museum

Mingei International Museum (currently closed for renovation)

Japanese Friendship Garden
House of Pacific Relations - 17 cottages that are home to groups of diverse national origin.
Balboa Park's sports complex is named after John Morley, who was Park Superintendent from 1911-1939, years that encompassed two international expositions that were so crucial to the development of the park. The facilities at Morley Field include USTA-awarded tennis courts, a velodrome (bicycle track) where masters world cup championships are held, a swimming pool and a disc golf course.
Balboa Park also offers many family play and picnic areas, three leash-free dog parks, lawn bowling, canyon trails for hiking, and a golf course.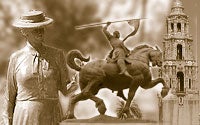 On May 26, 1868, a 1,400-acre tract of nine City pueblo lots was set aside as a public park by the Board of Trustees of the City of San Diego following the recommendations of a far-sighted citizens committee. The California Legislature ratified the grant on Feb. 4, 1870, at a time when San Diego's population was 2,301 people and there were only 915 houses. For much of the remainder of the 19th century, the area then known as "City Park" remained a fairly wild land preserve of hilltops, canyons and arroyos, forever preserved for future generations of San Diegans and visitors.
In 1892, Kate O. Sessions, San Diego's patron saint of horticulture, asked City officials to lease 30 acres of "City Park" to her for a nursery. In return, she would plant 100 trees per year throughout the park and donate others to the city for planting elsewhere. With Kate Sessions' vision, brushwood and rocky dirt were transformed into tree shaded lawns, flower gardens, and hillside nature paths.
By 1902, a Park Improvement Committee had been formed and raised funds to employ Samuel Parsons, a landscape architect, to draw up a comprehensive plan for the Park. Funds were raised and planting development continued, and by 1910 the parkland began to look much as it does today. In order to find a more suitable name, a contest was held and the winner was Mrs. Harriet Phillips, a member of the Pioneer Society, with her suggestion of "Balboa," to honor the famous Spanish explorer, Vasco Nunez de Balboa who was the first European to see the Pacific Ocean.
The continuing development and "building" of Balboa Park owes much of the development to two world fairs, the Panama-California Exposition of 1915-16, and the California Pacific International Exposition of 1935-36. These two events marked the beginning and the continued development of the cultural park's center we see today.
The theme of the 1915 Panama-California Exposition was to celebrate man's progress and achievements. The Cabrillo Bridge and most of the cultural center "buildings" along El Prado were built for the exposition as well as the Spreckels Organ Pavillion, under the supervision of Bertrum Goodhue, a famous architect from New York. The scheme for the buildings was based on Spanish Colonial architecture. The Southern Palisades or Convention area grew out of the second fair through the efforts of Richard Requa, Director of Architecture and Landscaping, who designed with the purpose of interpreting Goodhue's scheme in terms of a series of buildings representing a complete history of the Southwest, from prehistoric times to the modern era. Many of the new buildings were reminders of Indian Pueblo architecture or were Mayan in design style.
During both World Wars the park was taken over for use by the military, and after the wars, the buildings reverted to use by cultural and recreation organizations, many of the facilities becoming the museums and institutions we see today. Extensive rehabilitation of Park buildings and facilities has been underway since 1946, and in 1960 a master plan for Balboa Park was submitted and used to continue the growth and future development of the Park. Improved landscaping, modernization of buildings and roadways, and improved pedestrian walkways and access is the result of the care and concern of the people of San Diego. With the 1960 Master Plan, $2 million was spent on Park improvement and renovations. In 1989, a new master plan was adopted for a 20-year period to restore and continue the improvements. Balboa Park has always been special to the people of San Diego. Through the dedication and caring of many people over the years and the continued efforts today, Balboa Park will continue to flourish as the true heart of the City.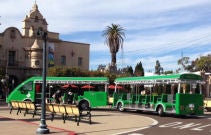 Let us take you where you want to go by taking the free green tram. All trams are equipped with an ADA-accessible ramp for your convenience. Please ask the conductor for assistance.
You can get to the tram by driving or riding a City bus to "Inspiration Point" which is conveniently located at Park Boulevard and Presidents Way (parking lot on the south side of Park Boulevard). Inspiration Point provides ample parking and easy access to Tram Central, the starting point for the free tram transportation service. Tram Central offers benches and shade to Balboa Park visitors.
Every day and every 10 to 15 minutes, the tram will stop at Tram Central to pick up and drop of Park visitors. Summer hours of operation are from June 1 through Oct. 31, daily from 9 a.m. to 8 p.m. Fall/winter hours of operation are from Nov. 1 through May 31 daily, from 9 a.m. to 6 p.m. Last pickup from Tram Central will be 15 minutes prior to the end of tram operations for each day.
The tram makes its way through the Park, stopping at most of the Park's most popular destinations. They are the Plaza de Panama (in front of The Prado), the Spreckels Organ Pavilion and Pan American Plaza (Palisades Lot).
Information about Balboa Park's buildings and gardens, and park brochures are available at the Visitor Center, located in the House of Hospitality (Plaza De Panama Stop), which is the first stop from Inspiration Point. The Free Tram does not operate on the following Special Events and City Holidays.
City Holidays Thanksgiving Day Christmas Day
Special Events Earth Day December Nights
Tram Operation is subject to delayed start times due to scheduled events in Balboa Park.
For more information, please call (619) 235-1100.
Discover the wonders of Balboa Park and save money! Park Annual Passes, One Day, Multi-Day Explorer and Multi-Day Pass/Zoo Combos can be purchased online at Balboa Park Explorer. Explorer passes can also be purchased within Balboa Park at participating museums and at the Balboa Park Visitors Center.
For group sales information, please call (619) 232-7502, ext 1208. For general information, please contact (619) 232-7502 ext 1204.
Some museums may offer complimentary admission to their permanent collections only and charge admission to special exhibitions, showings and events. Please call individual museums for information.
Park museums offer free general admission on a rotating basis throughout each month to residents of the City and County of San Diego, and to active military personnel and and their dependents.
Some museums may offer complimentary admission to their permanent collections only and charge admission to special exhibitions, showings and events. Please call individual museums for information.