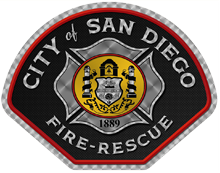 Join San Diego Fire-Rescue
Choosing a career as a Firefighter is the beginning of a journey. It can be one of the most challenging, exciting and rewarding experiences of your life.
Meet the Chief
Kevin Ester is currently serving as the San Diego Fire-Rescue Department's (SDFD) interim fire chief until a permanent chief is appointed. Chief Ester started his fire service career in 1978 as a fire explorer with the Orange County Fire Department. He was hired by SDFD in 1985 and has served in every rank within the department. Chief Ester has attended the National Fire Academy, is a State Certified Fire Officer and has a Fire Science Certificate from Miramar College. He has served as the driver training officer, fire fleet manager, rescue specialist with California Task Force-8 and rescue 4 and was a member of the occupational health and safety committee.