Street Sweeping
Street Sweeping Changes
Starting Sept. 1, 2022, the City's Stormwater Department will begin implementing frequency changes and some routes will have signage posted to implement limited-hour parking restrictions on select street sweeping routes in several neighborhoods. The changes follow a data-driven analysis on current street sweeping practices that recommended frequency changes to maximize the citywide collection of pollutants and trash along roadways. For more information, please review the Fact sheets below and learn how street sweeping helps ensure clean water and clean beaches for all of San Diego.
Want to know if your street is affected? Look it up on this interactive map of street sweeping routes citywide.
Questions? Please call 619-527-3482 or email swppp@sandiego.gov. To report storm drain pollution or other issues, use the Get it Done app or go to SanDiego.gov/Get-It-Done.
---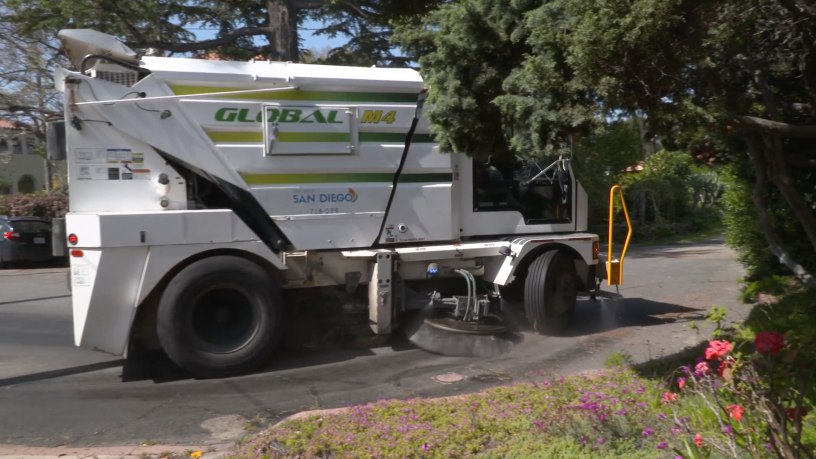 Street sweeping provides two primary benefits: Keeping the streets clean of trash and debris and protecting water quality. Debris can block storm drains and cause localized flooding during heavy rains. Storm water enters our waterways untreated, so an equally important benefit is the removal of small metal particles and other hazardous waste products left by passing vehicles. These particles can be extremely harmful to fish and other wildlife if they reach our creeks, rivers, beaches and bays. Street sweeping is an effective method of removing both the large and microscopic pollutants that collect on City streets..
Motorized sweeping removes an average of 220,000 lbs. of debris from the street before it goes into the storm drains. For more information on how to protect our environment and enhance our communities, visit ThinkBlue.org
We currently have over 2,700 miles of improved streets that are included in the sweeping program. We have 20 power sweepers and operators, with a support staff of truck drivers and parking enforcement officers. 
Read about street sweeping pilot studies that help the City improve efficiencies.
---
Street Sweeping Routes and Schedules
Please visit our interactive street sweeping map to find out more information about sweeping routes and schedules.
If your assigned sweeping day falls on a scheduled City holiday, it will not be swept. The route will be swept on the next assigned sweeping day.
Routes with Parking Restrictions
Some street sweeping routs are posted with 'no parking' signs stating the day of the week and time of day the street will be swept. These routes are designed with time limits to allow enough time for the sweeper to complete the miles assigned to a specific route, which vary in length. These restricted routes average between 20 to 30 miles in length and are cleaned frequently. The Storm Water Division  will issue parking citations for cars parked during the no parking time restrictions. The Stormwater Department will issue parking citations for cars parked during the no parking time restrictions.
Routes with No Parking Restrictions
These routes are typically swept between the hours of 7 a.m. and 2 p.m. These types of routes have no signs and have no parking restrictions, however residents are asked to voluntarily move their cars on all sweeping days.
Special Cleaning
The Storm Water Division performs many other special cleaning operations including bike ways, center medians upon request, and before and after many community events.
Use the Get it Done application to submit a request for street sweeping services.