First Fire Station Built in San Diego Since 2008 Opens in Mission Valley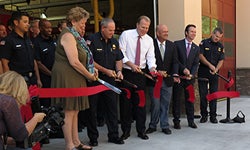 Photo taken at the ribbon-cutting ceremony
SAN DIEGO - For years residents of Mission Valley have been anxiously awaiting a permanent fire station to call their own. Now they have one.
"I am proud to finally see the official opening of this state-of-the-art fire station that will serve the heart of Mission Valley where it is desperately needed," said City Councilmember Scott Sherman, whose district includes Mission Valley.
With more than 16,000 square feet, five garage bays, 16 dormitory rooms, an engine, ambulance, a new $1.2 million fire truck and an entire hazmat response team, it is the first full-scale station built in the City of San Diego since 2008. City leaders and firefighters say the $11 million station amply meets the needs of a rapidly expanding community along the Interstate 8 corridor.
"This station gives us so many opportunities to better serve the residents of Mission Valley and the City," said Fire-Rescue Chief Javier Mainar. "The addition of a truck here has been needed for some time and improves our response for fires and rescues. While we operated well from the temporary station, this facility is immeasurably better."
In years past, a fire truck from one of four stations near Mission Valley would have to respond when one was needed.
"Now the truck from Station 28 or Station 14 doesn't have to drop down into the valley," added San Diego Fire Captain Robin Cervantes. "And truck 20 from the west and 10 from the east won't have to come in, so it's really going to help save time in getting to calls."
Located across the street from Qualcomm Stadium, just north of Friars Road, the new station replaces a small, temporary trailer erected in 2006 in a corner of the Qualcomm parking lot.
"They were close quarters, everything is a really a tight fit in a trailer," said San Diego Fire Captain Derrin Austin. "The station is much nicer. Now, you have to do a lot of walking to get between the bedrooms, down to the kitchen and out to the apparatus floor on a response."
The relocation process for one particular crew was more than just a drive across the street. Fire Station 45 now includes the hazardous materials team that previously worked out of another station.
"Moving the Hazardous Materials apparatus from Mira Mesa puts them in a more centralized location to be able to respond citywide," said Mainar.
The station's design supports the City's sustainability and climate action goals with water efficient, drought-tolerant landscaping and a new photovoltaic system that generates up to 20 percent of the power required to operate the station.
"I'm happy to say Fire Station 45 is the first of several new fire stations that are slated for San Diego," said Councilmember Mark Kersey, who chairs the City's infrastructure committee.
Photo Gallery
(Click images for larger view)