Resident Input Ensures New San Ysidro Branch Library Will Be a Jewel of the Community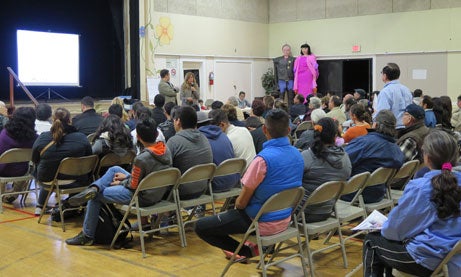 City of San Diego staff met with a packed room of San Ysidro community members in November to provide an update on the new San Ysidro Branch Library Project. By 2020 the project will replace the existing 4,089 square feet library built in 1924 with a new state-of-the-art library that is three times larger.
The new $12.2 million library will feature modern library amenities, such as children and teen areas, study areas, a computer lab with 25 computers, and multi-purpose areas.
The facility will incorporate universal design to make it accessible for all; it will be energy efficient and environmentally friendly; and most importantly, it will incorporate community input into the new project delivery method, called Community Based Competitive Design.
"This project delivery method will help ensure that the community is able to convey their vision for the library directly to the library designer," said Architectural Engineering and Parks Deputy Director Mark Nassar.
First used on the Skyline Hills Branch Library project last year, this innovative project delivery method prequalifies teams of architectural design and construction firms who compete for a fixed price contract to design and construct the new library.
The firms are required to meet with residents at a public meeting within the community and then must integrate the community vision into their proposed design, as well as incorporate standard City construction requirements.
"We want each of the designer firms to translate the community's desire for a functional and flexible space as well as historical and cultural aesthetics into their designs," said Nassar. He added, "the goal is to make the library the jewel of the community, which is an inspirational and thriving space for future generations to come."
"The winning design-build team will be the one that best incorporates community input into their design and meets the technical quality needed for the proposed design," said Public Works Architectural, Engineering, and Parks Assistant Deputy Director Elif Cetin.
"It's a win-win for the design-build team and the City. The winning team gets to be the one to implement this significant project, the community receives a library tailored to their vision, and the City gets a library that has all the amenities of 21st Century library for a fixed price."