Liezl Gloria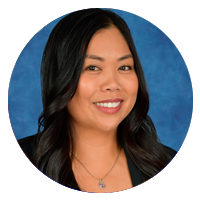 Liezl serves as Councilmember Jennifer Campbell's Deputy Chief of Staff. In this role, she consults the Councilmember on policy areas that pertain to the Community and Neighborhood Services Committee which the Councilmember chairs. She also advises on the following policy topics: budget, environment, and arts and culture.
Prior to joining Councilmember Campbell's office, Liezl worked for three administrations and has more than a decade of experience at City Hall. This includes serving as a Deputy Chief of Staff on Policy and Outreach, advising on policy issues coming before the City Council, and has a long history of providing first-class constituent services to communities throughout the City of San Diego.
She currently serves as a Board Member for the Pacific Arts Movement and the City of San Diego's Filipino- American Employees Association.
Liezl was raised in Guam and then moved to San Diego to attend the University of San Diego where she graduated with a B.A. in International Relations with a minor in Business Administration. In her spare time, she enjoys exploring San Diego with her husband and two sons.
Contact: lgloria@sandiego.gov or 619-236-6622