Assisting the City's Homeless Community
The City's paramount priorities are connecting people experiencing homelessness to permanent housing and keeping them safe – both from the potential outbreak of a communicable disease, such as hepatitis A, and from predators who prey on vulnerable people living on our streets.
The City continues to operate its person-centered Coordinated Street Outreach Program across our city. This program seeks to connect homeless San Diegans to shelter, case management and services such as behavioral health and medical care. Between June 28 and July 23, 2021, the City concentrated this effort in Downtown. This outreach resulted in: 
2,095 interactions with folks on the street 
476 people placed into shelter
336 enrolled in case management
These efforts are ongoing in every City Council District. 
As part of this work, the Police Department conducts a progressive enforcement program which offers services to individuals experiencing homelessness while holding individuals accountable for violations of the law. Under this approach, individuals in violation of laws such as illegal lodging or encroachment are contacted by officers up to four times before there is a potential for arrest. These contacts begin with education and warnings and include consistent offers of shelter and services at every step.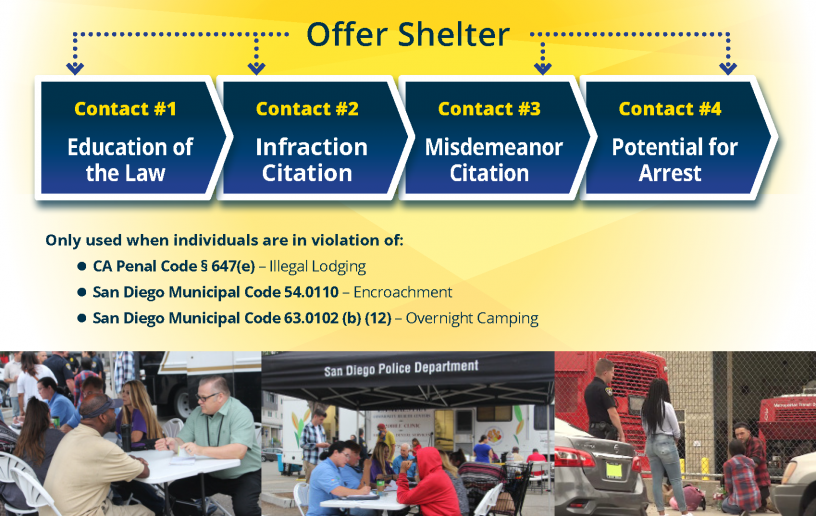 The City remains committed to doing everything it can to connect people experiencing homelessness to the help they need, with permanent housing as the ultimate goal for all.