Mid-City Urban Trails Cherokee Avenue Traffic Calming Project Receives Prestigious Award
June 15, 2012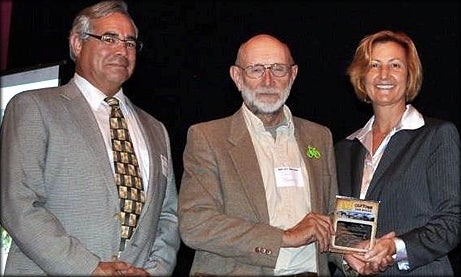 In July, the San Diego Section of the American Planning Association (APA) awarded the City of San Diego?s Mid-City Urban Trails Cherokee Avenue Traffic Calming Project with its Complete Streets Award. The award recognizes the best planning efforts of street redevelopment or construction projects within the County of San Diego that provide safe and fluid access for all users, including bicyclists, pedestrian, and motor vehicle traffic.
?Complete Streets do more than just balance transportation priorities within the right-of-way. They are an investment in communities which pays multiple dividends. When designed as living streets, they enhance public safety and walkability, beautify the streetscape, reduce auto congestion, improve business activity, increase sales taxes, create opportunities for physical activity, and lower green house gas production,? said APA Section Director-Elect Greg Konar.
Completed in November 2011, the project installed new sidewalks and street crossings at a wide intersection of 6 neighborhood streets near the Normal Heights Elementary School. The project reduced the roadway?s width; created 90-degree intersections; reduced traffic speed; planted new landscaping; placed new street lights; and built new pedestrian ramps. It also resurfaced the streets and installed curbs, gutters, and new permeable surfacing to help filter stormwater and reduce runoff.
Pictured left to right are Project Manager Mark Giandoni, Normal Heights Planning Group Chair Jim Baross, and Deputy Director of Right of Way Design Marnell Gibson.