Ted Williams Parkway Pedestrian Bridge Project Groundbreaking Ceremony
April 5, 2013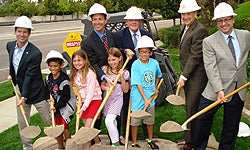 The much anticipated Ted Williams Parkway Pedestrian Bridge Project officially broke ground on April 5, 2013 ending a 10-year long process to bring the bridge to fruition. The project will construct a 479-ft bridge over Ted Williams Parkway creating a safer route for bicyclists, pedestrians, and the area elementary school children to cross the busy six-lane road at Shoal Creek Drive.
The distinguished guests included: Mayor Bob Filner, Assemblymember Brian Maienschein, Councilmember Mark Kersey, representatives from Poway Unified School District, the student council from Shoal Creek Elementary school, staff from the Public Works Department, community members, and a representative from the Office of Congressman Duncan Hunter Jr. who all collaborated to make this project possible.
?The project started with a few concerned parents, like Helena Evans whose mother was hit by a car while pushing a baby stroller in this crosswalk before us,? said Troy Daum, Chairman of the Shoal Creek Pedestrian Safety Committee.
A constant theme in all of the speakers? remarks was the time it took to arrive at a ?shovel-ready? project. ?A capital improvement project can?t be done overnight,? said Tony Heinrichs, Director of the Public Works Department. ?There are a lot of moving parts and it takes a lot of hands on deck to bring a project like this to fruition.?
The state-of-the-art bridge will bring peace of mind to the many concerned parents who have been very vocal about the life and safety issue of the children trying to cross Ted Williams Parkway en route to school. ?When we started work on this project, my daughters were not even born yet,? said Maienschein.
The design consultant is Simon Wong Engineering. The construction contractor is KTA Construction. The cost of the bridge construction is $2.46 million. Construction is anticipated to be completed in the summer of 2014.
Photo Gallery
(Click images for larger view)