25th Street Renaissance Project Groundbreaking Ceremony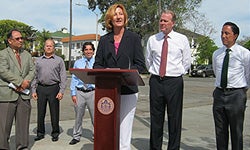 (Pictured left to right: Public Works Department Project
Team Members Abi Palaseyed, Brad Johnson, and Marc Pirazzini;
Public Works Department Interim Assistant Director Marnell Gibson;
Mayor Kevin Faulconer; and Council President Todd Gloria)
On April 8, 2014 Mayor Kevin Faulconer, Council President Todd Gloria and City of San Diego officials ceremoniously broke ground on the 25th Street Renaissance Project at the corner of B and 25th Streets.
Mayor Faulconer praised the project's improvements, which will provide pedestrian amenities, traffic calming, and hardscape improvements. "I am a strong advocate for active transportation. The 25th Street Renaissance Project will make active transportation a far better option in this corridor" he said.
Council President Todd Gloria, Public Works Department Interim Assistant Director Marnell Gibson, and representatives from the City of San Diego Public Works, and Transportation and Storm Water Departments joined the Mayor at the ceremony.
"The push to rebuild San Diego's neighborhoods has begun and projects like this that widen sidewalks and install bike lanes are going to be the future," Faulconer added.
Todd Gloria agreed saying, "This project brings active transportation improvements to the neighborhood and will allow for safer biking and walking along a key corridor."
The project will make the Golden Hill neighborhood safer and more accessible for residents and businesses. The project's improvements include:
Installation of sidewalk pop-outs
Restriping of roadways
Intersection controls
Sidewalk widening
Class II Bike lanes
Accessibility
Reverse angle parking
Replacement of water mains
Water quality improvement devices
The 25th Street Renaissance Project improvements focus on calming traffic, creating multi-modal forms of transportation, and making infrastructure upgrades. The project was funded from TransNet and Water Funds. Mayor Faulconer concluded with "this is a $1.7 million dollar neighborhood infrastructure improvement for this community."
To view the ground breaking ceremony, click on the link below.