Mayor, City Councilmember and Residents of District 4 Break Ground on the Holly Drive Street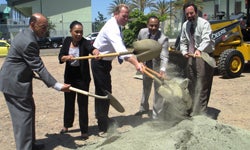 Pictured left to right: Bishop Roy Dixon,
Councilmember Myrtle Cole, Mayor Kevin Faulconer,
Pastor Terrell Fletcher and
Public Works Engineer Louis Schultz
On April 30, 2014 residents of District 4 were joined by Mayor Kevin Faulconer and Councilmember Myrtle Cole in the Lincoln Park neighborhood. They broke ground on a project to transform Holly Drive into a lovely, tree-lined street.
"Revitalizing our neighborhoods and infrastructure improvements are top priorities for me. It is no secret that we need sidewalks in this district. We are thrilled to break ground on this project that will install long-awaited sidewalks on Holly Drive," said Councilmember Myrtle Cole.
Public Works Interim Assistant Director Marnell Gibson, Pastor Terrell Fletcher of the City of Hope International Church (on Holly Drive), Bishop Roy Dixon of the Church of God in Christ and a variety of community members attended the ceremony.
Mayor Faulconer said, "I'm proud to join my colleague to kick-start this critical project. Children and families deserve safe sidewalks and streets."
The $1.9 million project will add sidewalks to both sides of Holly Drive making it a pedestrian-friendly street. New curbs, gutters, curb ramps, trees and speed bumps will also be installed. The entire roadway will be resurfaced transforming the street from its original state. Holly Drive runs east and west between Willie James Jones Avenue and Euclid Avenue.
Photo Gallery
(Click images for larger view)