MACC Project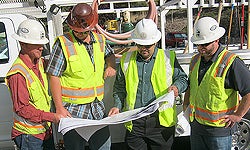 Representatives from T.C. Construction meet onsite
with City of San Diego Project Manager Akram Bassyouni
to review the plans for the First MACC construction project.
Pictured left to right are
T.C. Construction foremen Bobby Kostyrka and Rocky Anderson,
Akram Bassyouni, and T.C. Construction Senior Estimator Elan Schier.
A significant milestone was met by the City of San Diego. On May 1, 2013, the Public Works Department issued the Notice to Proceed for its first Multiple Award Construction Contract (MACC) for pipeline projects.
MACC is an alternative method of project delivery to the City?s normal process (i.e., Design-Bid-Build) where a shortlist of pre-qualified design- build teams bid on projects that are similar in scope or asset type without the need to conduct a full open solicitation. These types of contracts are designed to reduce costs and time by streamlining the bidding and contract award processes.
"Traditionally used by the federal government, the City of San Diego is one of the first municipalities to offer the MACC, and we are excited to get this first project underway, said Public Works Department Director Tony Heinrichs.
The first MACC project is comprised of two water and sewer pipeline projects: Water and Sewer Group Job 946 and Water Group Job 949. Combined, both projects will replace approximately 25,500 feet of aging water mains and 2,000 feet of aging sewer pipe in the Skyline, Fairmont Park, Mount Hope and Mountain View communities.
For the first MACC, the City qualified El Cajon Grading & Engineering Corporation, J.R. Filanc Construction, Orion Construction Corporation, Ortiz Corporation, and TC Construction as prime contractors to be shortlisted and to compete for tasks under the contract.
The City issued the first Task Order, or request for proposals, for the pipeline MACC in November 2012. Each shortlisted contractor provided a proposal that included their engineering and construction approach and the cost of the work. In addition, the City required that the winning MACC project team subcontract more than 20-percent of the work to certified Small or Emerging Local Businesses.
"The City is dedicated to the principles of equal opportunity in the workplace and subcontracting," said Senior Civil Engineer Rania Amen. She continued, "It is the City's expectation that firms doing business with the City have and are able to demonstrate this commitment."
The construction contractor selected for the first MACC project is TC Construction, who teamed with RBF Consulting to perform the engineering component of the project. The cost of the construction is $8,945,000. Construction is anticipated to be complete in the fall of 2014.