Ground is Broken on New Innovative Multi-Generational City Park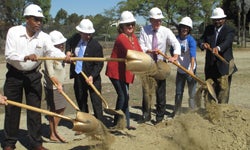 Pictured left to right: Park & Recreation Deputy Director David Monroe, Project Manager Alexandra Corsi, Public Works Deputy Director Mark Nassar, Councilmember Marti Emerald, Mayor Kevin Faulconer, Terry Stanley, and Park & Recreation Department Director Herman Parker.
On Thursday, October 2, 2014 Mayor Kevin L. Faulconer, City Councilmember Marti Emerald, City of San Diego representatives, and members of the community broke ground on the new $2 million Central Avenue Mini Park, a model City park that will improve recreational opportunities and promote health and exercise for the community.
The new Central Avenue Mini Park will be built in a vacant lot purchased from the California Department of Transportation (Caltrans) on relinquished property near Interstate 15. The new 0.64 Acre (27,842 square feet) park will include:
A skate plaza with ramps, rails, and security fencing;
Two children's play areas designed for ages 2 to 5 and 5- to 12-years old;
A small open turf area for passive recreation;
A plaza area with game tables;
A bike rack;
A 3-foot tall decorative park perimeter fence;
Walkways;
Drought-tolerant landscaping;
And incorporate improvements that comply with access law requirements, facilitating access for persons with disabilities.
Construction is anticipated to be complete for the park opening in fall 2015.
"The community came together and designed this park according to what they'd like to see," said Councilmember Emerald "I am so happy that this project will not only include open space to play, but also a safe place for our youth to skate. This will keep our youth off our streets, away from cars."
"This park is yet another example of the City taking action to help our City Heights community thrive. On behalf of the City of San Diego, I'd like to thank the devoted community groups and dedicated staff with Public Works and Park & Recreation (Departments) that worked together to make this possible," said Mayor Faulconer.
Joining Mayor Faulconer and Councilmember Emerald were City Park and Recreation Director Herman Parker, Public Works - Architectural Engineering and Parks Division Deputy Director Mark Nassar, Mid-City Community Advisory Network Youth Councilmember Terry Stanley, and local residents.
Photo Gallery
(Click images for larger view)