National Public Works Week (NPWW)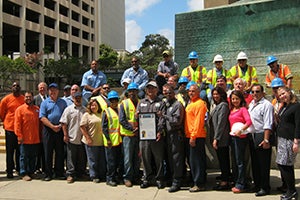 ---
Print and Display this Poster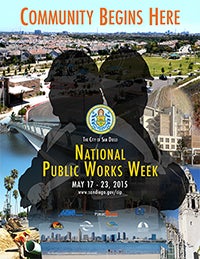 View larger 8.5"x11" version


View larger 8.5"x14" version


View larger 11"x17" version
NPWW celebrates and honors the tens of thousands of men and women in North America who provide and maintain the infrastructure and services collectively known as public works.
Instituted as a public education campaign by the American Public Works Association (APWA) in 1960, NPWW calls attention to the importance of public works in community life. The Week seeks to enhance the prestige of the often?unsung heroes of our society?the professionals who serve the public good every day with quiet dedication.
The City of San Diego is proud to support this year's theme, "Community Begins Here" which speaks to the essential nature of public works services in support of everyday quality of life. This includes planning, building, operating and managing the necessities of our local community, as well as implementing environmentally conscious programs to ensure the availability of our natural resources for generations to come.
You can be a part of the celebration too! Come see the Mayor and City Council officially proclaim May 17-23, 2015 National Public Works Week on Tuesday, May 19, 2015 at 10 a.m. Join City public works professionals in accepting their well deserved recognition.
For more information regarding the City's celebration of Public Works Week, email [email protected].