The City of San Diego's National Public Works Week Campaign Wins Award
November, 2014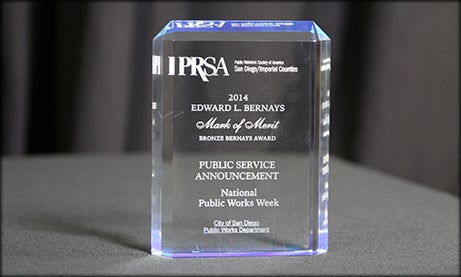 The San Diego and Imperial Counties Chapter of the Public Relations Society of America (PRSA) recognized the City of San Diego Public Works Department with its 2014 Edward L. Bernays Mark of Merit Bronze Award for Public Service Announcements (PSAs) that were produced to support National Public Works Week (NPPW).
NPWW celebrates and honors the tens of thousands of men and women in North America who provide and maintain the infrastructure and services collectively known as public works.
Open to all agencies and organizations located throughout San Diego and Imperial counties, the Bernays Award is the highest honor bestowed for outstanding public relations.
There are two types of awards: The Silver Bernays Award provides special recognition for exceptional planning, execution and evaluation of a program or campaign. The Bronze Bernays Award recognizes the quality of a specific program or campaign strategy.
The City's "National Public Weeks PSAs?was a creative way to shine the light on public works," commented the PRSA committee of judges. "We understand public agencies have limited resources and found this strategy to be a great way to highlight public works."
The five PSAs each average one minute in length, and were produce in collaboration with numerous City of San Diego departments, City TV, and the Mayor's Office.
"We are truly honored to have received this award from such a prestigious organization; it validates the high-quality, results-driven work that we do for the City of San Diego," said Public Works Director James Nagelvoort.