Skyline Drive Corridor Improvements Project Ribbon-Cutting Ceremony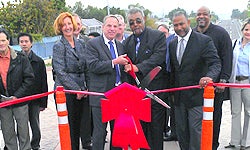 Mayor Bob Filner was joined by Anthony Young, representatives from Skyline-Paradise Hills and Encanto Neighborhood Community Planning Groups, San Diego Unified School District, staff from the Public Works Department, and community members for the ribbon-cutting ceremony.
"I want to thank Mayor Bob Filner, former Council President Tony Young, and our Public Works project team who worked closely with the community to design these improvements", said Public Works Assistant Director James Nagelvoort. The ribbon-cutting site showcased several features of the infrastructure project that will provide traffic calming and safety improvements. The project is located along Skyline Drive from 58th Street to Cardiff Street.
Photo Gallery
(Click images for larger view)