Fire Station No.45 Project Groundbreaking Ceremony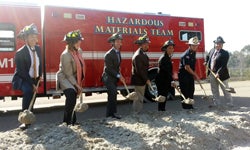 Pictured left to right: Chief Operating Officer Scott Chadwick;
Councilmembers Marti Emerald, Mark Kersey, and Scott Sherman;
Interim Mayor Todd Gloria; Fire Chief Javier Mainar;
and Public Works Department Director James Nagelvoort.
On January 23, 2014 City of San Diego officials ceremoniously broke ground on the first permanent fire station in Mission Valley. The ceremony was held at the corner of Friars Road and Mission Village Drive, where the new Fire Station #45 will be located.
?To keep American Finest City?s at its finest, the City is significantly investing to improve its aging infrastructure and its neighborhoods,? said Interim Mayor Todd Gloria. ?The new fire station 45 will be the first fire station ever built in the Mission Valley community.?
Interim Mayor Gloria was joined by Councilmembers Scott Sherman, Mark Kersey and Marti Emerald, Chief Operating Officer Scott Chadwick, Fire Chief Javier Mainar, Public Works Department Director James Nagelvoort, and representatives from the City of San Diego Public Works and Fire-Rescue Departments.
Since March 2006, a temporary Fire Station #45 has provided Mission Valley and the surrounding communities with emergency/rescue services. ?Comprised of a modular trailer and a tent that houses Engine #45, the temporary station?s location has posed some challenges for timely response,? said Chief Mainar.
He added, ?This new fire station will be centrally located and serve Mission Valley and its surrounding communities, with coverage of 4.28 square miles. The new station is specifically designed to house our Hazardous Materials Response Team, which will be relocated from Mira Mesa to this more centralized location to provide for more timely HAZMAT response to all communities.?
The new, 2-story, 16,290 square-feet Fire Station #45 will have:
5 vehicle bays and 16 dormitory rooms to meet the San Diego Fire Department?s operational needs;
A new traffic signal system at the front of the fire station to facilitate fast response;
A new $1.2 million fire truck, and an additional crew to serve the local area alongside Fire Engine #45;
Water efficient landscaping that will complement the adjacent surroundings, including a mixture of drought-tolerant and native low and high profile plantings;
3 disabled parking spaces and 31 standard parking spaces;
And a new solar-powered photovoltaic system that will generate up to 20% of the power needed to operate the fire station.
?The total project cost is $11.1 million and well worth the investment to enhance the safety of residents and businesses in the Mission Valley and surrounding communities, while providing the Fire-Rescue Department with the ability to house additional apparatus and firefighters as needed for future generations,? concluded Nagelvoort.
Photo Gallery
(Click images for larger view)